Attachment and Family Systems: Family Process, Volume 41, Number 3, Fall 2002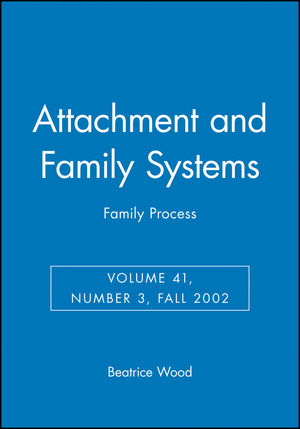 Attachment and Family Systems: Family Process, Volume 41, Number 3, Fall 2002
ISBN: 978-1-405-12717-2 October 2002 Wiley-Blackwell 280 Pages
Description
This volume provides a comprehensive multidisciplinary and multinational view of attachment theory as it applies to family systems, and family systems theory as it extends attachment theory.


Explores if and how attachment theory can be truly systemic, and what a systemic attachment theory would entail


Addresses potential clinical implications and applications of attachment and family systems theories


Raises cultural challenges to integrative theoretical development


Challenges developmental and family systems scientists and practitioners to begin an active exchange
Table of contents
1. Introduction: Beatrice L. Wood (Children's Hospital of Buffalo).
2. The Network Perspective: An Integration of Attachment and Family Systems Theories: Kasia Kozlowska (The Children's Hospital at Westmead) and Lesley Hanney (Relationship Australia).
3. Attachment, Social Rank, and Affect Regulation: Speculations on an Ethological Approach to Family Interaction: Leon Sloman (University of Toronto), Leslie Atkinson (University of Toronto), Karen Milligan (University of Toronto) and Giovanni Liotti (Universita Pontificia Salesiana).
4. Family Systems Theory, Attachment Theory, and Culture: Fred Rothbaum (Tufts University), Karen Rosen (Boston College), Tatsuo Ujiie (Nagoya University), Nobuko Uchida (Ochanomizu University).
5. Observing Mother-Child Relationships Across Generations: Boundary Patterns, Attachment, and the Transmission of Caregiving: Molly D. Kretchmar (Gonzaga University) and Deborah B. Jacobvitz (University of Texas at Austin).
6. Relieving Parentified Children's Burdens in Families with Insecure Attachment Patterns: John Byng-Hall (Institute of Family Therapy).
7. Attachment, Mastery, and Interdependence: A Model of Parenting Process: Martha E. Edwards (Ackerman Institute for the Family).
8. Attachment Security in Couple Relationships: A Systemic Model and Its Implications for Family Dynamics: Mario Mikulincer (Bar-Ilan University), Victor Florian (Bar-Ilan University), Philip A. Cowan (University of California, Berkeley) and Carolyn Pape Cowan (University of California, Berkeley).
9. Balancing the Family and the Collective in Raising Children: Why Communal Sleeping in Kibbutzim Was Predestined to End: Ora Aviezer (University of Haifa), Abraham Sagi (University of Haifa) and Marinus van Ijzendoorn (Leiden University).
10. Attachment and Family Therapy: Clinical Utility of Adolescent-Family Attachment Research: Howard A. Liddle (University of Miami) and Seth J. Schwartz (University of Miami).
11. Attachment and Affect Regulation: A Framework for Family Treatment of Conduct Disorder: Margaret K. Keiley (Purdue University).
12. Depression and Attachment in Families: A Child-Focused Perspective: Melissa Herring (Emory University) and Nadine J. Kaslow (Emory University).
13. Links between Community Violence and the Family System: Evidence from Children's Feelings of Relatedness and Perceptions of Parent Behavior: Michael Lynch (SUNY Genesco) and Dante Cicchetti (University of Rochester).
14. The Epigenesis of the Family System as a Context for Individual Development: Herta A. Guttman (McGill University).
15. Cross-Cultural Perspectives: Implications for Attachment Theory and Family Therapy: Patricia Minuchin.
16. Conceptual Links between Byng-Hall's Theory of Parentification and the Emotional Security Hypothesis: Patrick T. Davies (University of Rochester)
What's New


Explores if and how attachment theory can be truly systemic, and what a systemic attachment theory would entail


Addresses potential clinical implications and applications of attachment and family systems theories


Raises cultural challenges to integrative theoretical development


Challenges developmental and family systems scientists and practitioners to begin an active exchange