Attestation Engagements 2017: Codification of Statements on Standards for Attestation Engagements, Numbers 1 to 18, January 2017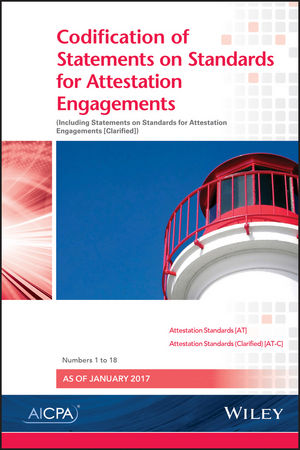 Attestation Engagements 2017: Codification of Statements on Standards for Attestation Engagements, Numbers 1 to 18, January 2017
ISBN: 978-1-945-49826-8
May 2017
768 pages
Product not available for purchase
Description
Redrafted in accordance with the clarity drafting conventions (and differentiated from the extant standards by using the identifier "AT-C"), the attestation standards have been made easier to read, understand, and apply by establishing objectives and definitions in each AT-C section, and separating requirements from application and other explanatory material. Some of the changes introduced by SSAE No. 18 include (among other changes):
Separation of procedural and reporting requirements for review engagements from their counterparts for examination engagements
Required representation letters
More robust risk assessment for examination engagements
SSAE No. 18 supersedes all the extant attestation standards with the following exceptions:
AT 501, An Examination of an Entity's Internal Control Over Financial Reporting That is Integrated With An Audit of Financial Statements
AT 701, Management's Discussion and Analysis.
How This Publication Is Organized 1
Statements on Standards for Attestation Engagements [AT]
AT Cross-References to SSAEs 5
Attestation Standards—Introduction 9
Statements on Standards for Attestation Engagements 11
AT 20 Defining Professional Requirements in Statements on Standards for Attestation Engagements 21
AT 50 SSAE Hierarchy 23
AT 101 Attest Engagements 27
AT 9101 Attest Engagements: Attest Engagements Interpretations of Section 101 59
AT 201 Agreed-Upon Procedures Engagements89
AT 9201 Agreed-Upon Procedures Engagements: Attest Engagements Interpretations of Section 201107
AT 301 Financial Forecasts and Projections 111
AT 401 Reporting on Pro Forma Financial Information 147
AT 501 An Examination of an Entity's Internal Control
Over Financial Reporting That Is Integrated With an Audit of Its Financial Statements 163
AT 9501 An Examination of an Entity's Internal Control Over Financial Reporting That Is Integrated With an Audit of Its Financial Statements: Attest Engagements Interpretations of Section 501 213
AT 601 Compliance Attestation 217
AT 701 Management's Discussion and Analysis 239
AT 801 Reporting on Controls at a Service Organization 289
AT Appendixes 345
AT Topical Index 351
U.S Attestation Standards—AICPA (Clarified) [AT-C]
AT-C Cross-References to SSAEs 365
AT-C Introduction 369
Preface to the Attestation Standards
Glossary of Terms
AT-C 100 Common Concepts 391
105—Concepts Common to All Attestation Engagements
9105—Concepts Common to All Attestation Engagements:
Attestation Interpretations of Section 105
AT-C 200 Level of Service429
205—Examination Engagements
9205—Examination Engagements: Attestation Interpretations of Section 205
210—Review Engagements
215—Agreed-Upon Procedures Engagements
9215—Agreed-Upon Procedures Engagements: Attestation
Interpretations of Section 215
AT-C 300 Subject Matter 551
305—Prospective Financial Information
310—Reporting on Pro Forma Financial Information
315—Compliance Attestation
320—Reporting on an Examination of Controls at a Service Organization Relevant to User Entities'
Internal Control Over Financial Reporting
395—[Designated for AT Section 701, Management's Discussion and Analysis]
AT-C Exhibits723
AT-C Appendixes 729
AT-C Topical Index 735