Au Pair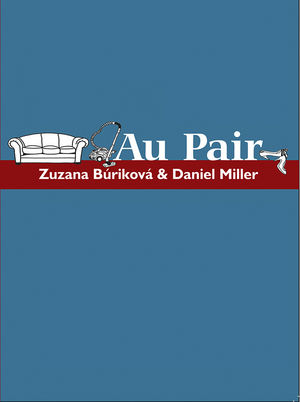 Au Pair
ISBN: 978-0-745-65957-2 April 2013 Polity 240 Pages
Download Product Flyer
Download Product Flyer
Download Product Flyer is to download PDF in new tab. This is a dummy description. Download Product Flyer is to download PDF in new tab. This is a dummy description. Download Product Flyer is to download PDF in new tab. This is a dummy description. Download Product Flyer is to download PDF in new tab. This is a dummy description.
Description
Many families leave their children for years to be looked after by young people about whom they know next to nothing, from places they have barely heard of. Who are these au pairs, why do they come and what is their experience of this arrangement? Do they, for their part, find that they are treated as one of the family, and would they even want to be? After a year of careful research, this book shows how most of our assumptions and expectations about au pairs are wrong.

This is the first book devoted to the lives of au pairs, their leisure as well as their work time. We see this world from the eyes of the visitors, and their unique perspective on what lies at the heart of our family life. The book does not flinch from documenting the realities of the situation Ð the racism and the problematic behaviour of the au pairs themselves, as much as the ignorance and exploitation they can be subject to. The book is a case study in how to come to feel modern life empathetically from the viewpoint of one of those many migrant groups we take for granted and rely on but rarely try to understand.
Table of contents
Acknowledgements vii
Prologue 1
1 Why Not? 5
2 An Embarrassing Presence 32
3 The Hard Work and the Soft Touch 60
4 Sort of English 87
5 Bored in Beddlingham 114
6 Men 137
7 Out of Time 156
8 Conclusion: Structure, Behaviour and Consequence 171
Appendix: Academic Studies of Domestic Labour 184
References 200
Index 204
Reviews
"A great read and an intriguing academic study … Rich in content not only for anyone who thinks about employing or becoming an au pair, but also for everyone scientifically interested in an ethnography of this specific institution."
Anthropos

"Pick up this book when you want a guilt-free escape from your day-to-day academic work. This is a vivid and engaging account of the life of Slovak au pairs in London. Written for the specialist and non-specialist alike, it offers great insight into the problems of intercultural communication, structured by the fundamental contradictions of the institution of the au pair."
Journal of Intercultural Studies

"Miller and Burikova's criticisms are all too real"
The Times

"A highly engaging read, which begs the question: why is more scholarly work not written in this way?"
Social & Cultural Geography

"A useful resource for all interested in both migration and gender studies. It challenges steretypes on the one hand of the au pair as an uneducated, poor and sexualised object and of host parents as cold, uncaring and exploitative on the other. It provides a huge amount of rich ethnographic data that challenge readers to think differently about family life, domestic tasks and the migration of young women."
Journal of Ethnic and Migration Studies

"With its fine-grained ethnographic detail, skillfully presented in vivid prose, this book illuminates every aspect of the hopes, fantasies and frustrations that constitute the frequently troubled ties and misunderstandings between au pairs and their employers. A huge pleasure to read, Au Pair provides a definitive, indispensable text for addressing this increasingly prevalent facet of family life, with its own suggestions for improving the lives of both au pairs and the families in which they reside."
Lynne Segal, Birkbeck College and author of Why Feminism?

"A long overdue book that deals sensitively with the experiences of both au pairs and host families. It moves between individual stories and their social context to reveal the tensions and the potential of this unique relationship."
Bridget Anderson, University of Oxford
Features
Danny Miller is one of the leading anthropologists in the world today and is a key figure in the study of material culture.
This book is unique: it is the first attempt to analyse in detail the life of the au pair and the families for whom they work.
The book is based on a detailed ethnographic study of 50 au pairs and their host families in London.
This should appeal to students working on topics related to domestic work, child care, family life and migration, as well as a wide general readership including people who have employed, or are thinking of employing, au pairs.