Audel Carpenter's and Builder's Tools, Steel Square, and Joinery, All New 7th Edition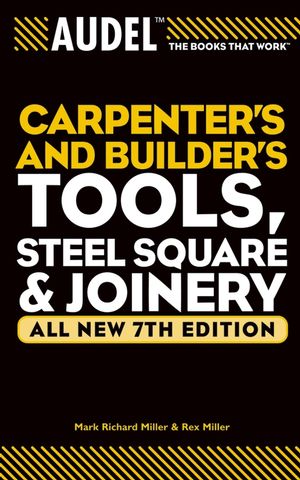 Audel Carpenter's and Builder's Tools, Steel Square, and Joinery, All New 7th Edition
ISBN: 978-0-764-57115-2
Oct 2004
352 pages
Description
Fully updated; the first in a four-volume set of indispensable builders' guides

Builders, remodelers, and do-it-yourselfers will love these revised, clearly organized guides. This one walks the reader through choosing, using, and maintaining appropriate hand and power tools for various jobs, then explains appropriate methods of wood joinery for different building and finishing applications. Includes an updated reference appendix.
Chapter 1. Mechanical Drawing.
Chapter 2. Clothing.
Chapter 3. Straightedge.
Chapter 4. Chalk Box and Line.
Chapter 5. Rules.
Chapter 6. "Horses" or Trestles.
Chapter 7. Saw Characteristics.
Chapter 8. Chisels.
Chapter 9. Spoke Shave.
Chapter 10. Awls.
Chapter 11. Hammers.
Chapter 12. Cordless Power Tools.
Chapter 13. Grinding.
Chapter 14. Jointing.
Chapter 15. Tools.
Chapter 16. Miter Tools.
Chapter 17. Application of the Square.