Audel HVAC Pocket Reference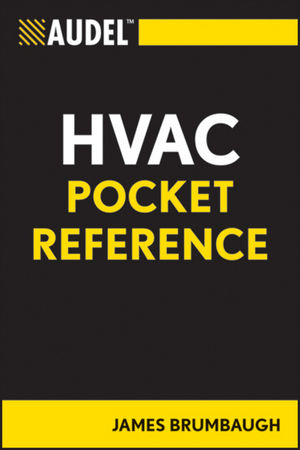 Audel HVAC Pocket Reference
ISBN: 978-0-764-58810-5
Aug 2005
378 pages
Description
Answers when you need them

When you need to check specs, confirm measurements, or make a quick metric conversion on the job, find the answers quickly and easily--right in your pocket.

Your one-stop reference for
* Conversion tables, electrical formulas, pipe thread standards, and motor ampere ratings
* Fuel cost comparisons
* Offset calculations and valve details
* Gas and oil burner specifications
* Pipe performance data
* Weather and design factors affecting heating/cooling calculations
* Troubleshooting guidelines
Conversion Tables.
Basic Electricity.
Heating Fuels.
Piping and Pipefitting.
Gas Piping.
Gas Burners.
Dual Fuel/Conversion Gas Burner Specifications.
Residential and Light-Commercial Oil Burner Specifications.
Burner Nozzles.
Oil Storage Tanks.
Fuel Pumps.
Chimneys and Fireplaces.
Steam Heating Systems.
Hydronic (Hot-Water) Heating Systems.
Cast-Iron Radiators.
Radiator and Convector Details.
Properties of Water, Air, and Saturated Steam.
Pipe Performance Data.
Copper Tube.
PEX Plastic Tubing.
Ducts and Duct Systems.
Thermostats.
Humidifiers and Dehumidifiers.
Compressors and Condensers.
Refrigerants.
Ventilation and Exhaust Fans.
Electric Motors.
Insulation.
Weather Data, Design Conditions, and Related Factors Used in Heating and Cooling Load Calculations.