Audel Pipefitter's and Welder's Pocket Manual, All New 2nd Edition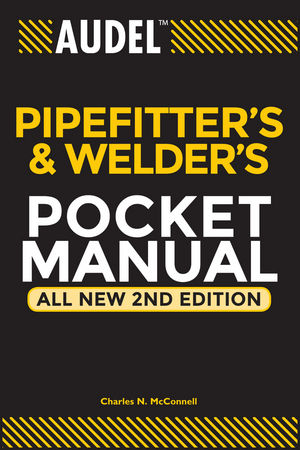 Audel Pipefitter's and Welder's Pocket Manual, All New 2nd Edition
ISBN: 978-0-764-54205-3
Oct 2003
336 pages
Description
This little book is big on answers

Whether you're an apprentice in the piping trades or a seasoned tradesperson, you'll find this completely revised and updated guide has answers to the questions you'll encounter on the job.

Get current, concise facts on
* Metrics and conversions
* Tungsten inert gas welding and arc welding
* Steam heating, hot water, refrigeration, and air conditioning systems
* Grooved end/plain end piping systems
* Process piping using plastics
* Automatic fire protection systems
* Terms, BTU fuel values, abbreviations, angle calculations, and more
1. Math and Metrics.
2. Calculating Offsets.
3. Pipe Welding with Oxyacetylene and Arc.
4. Automatic Fire Protection Systems.
5. Steam Heating Systems.
6. Hot-Water Heating Systems.
7. Air Conditioning and Refrigeration.
8. Process Piping Using Plastics.
9. Grooved-End and Plain-End Piping Systems.
10. Learning to Use an Instrument Level.
11. Pneumatic Control Systems.
12. Gas Piping.
13. Tungsten Inert Gas Welding.
14. Trouble-Shooting Tips for Arc Welding.
15. Pipe Welders' Definitions.
16. Definitions of Heating and Air Conditioning Terms.
17. Glossary of Terms Relating to Plastic Piping.
Appendix: Miscellaneous Information.
Index.