Audel Plumbers Pocket Manual, All New 10th Edition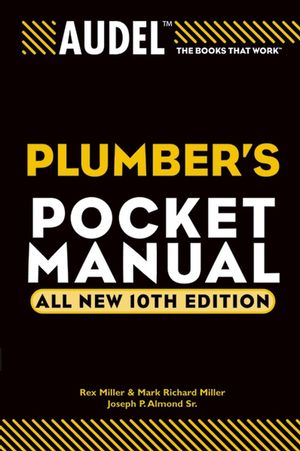 Audel Plumbers Pocket Manual, All New 10th Edition
ISBN: 978-0-764-57654-6
Oct 2004
368 pages
Description
Here's the real plumber's friend

This fully revised guide gives you plumbing essentials, illustrations, tips, shortcuts - the lowdown on brazing, soldering, pipe fittings, commercial water coolers, automatic bathroom systems, and more.

All this and much more
* Includes tables, diagrams, and working drawings
* Provides necessary math and metric information
* Features a chapter on dental office plumbing
* Explains and identifies the right plumbing tools for each job
* Illustrates appropriate vents and venting methods
* Covers the Sloan flush valve, Oasis water coolers, the Sovent system, 1.6-gallon flush toilets, and solar system water heaters
* Useful for homeowners as well as plumbing professionals
Acknowledgments.
About the Author.
Introduction.
Part I: Techniques, Installation, and Repair.
1. Tips for the Beginning Plumber.
2. Plumbing Safety and Tricks for the Trade.
3. Plumbing Tools.
4. Dental Office.
5. Working Drawings.
6. Roughing and Repair Information.
7. Outside Sewage Lift Station.
8. Pipes and Pipelines.
9. Vents, Drain Lines, and Septic Systems.
10. Lead Work.
11. Lead and Oakum Joints.
12. Silver Brazing and Soft Soldering.
Part II: Plumbing Systems.
13. Plastic Pipe and Fittings.
14. Cast-Iron Pipe and Fittings.
15. Copper Pipe and Fittings.
16. Water Heaters.
17. Water Coolers and Fountains.
18. Automatic Bathroom Systems.
Part III: General Reference Information.
19. Abbreviations, Definitions, and Symbols.
20. Formulas.
21. Metric Information Helpful to the Piping Industry.
22. Knots Commonly Used.
23. Typical Hoisting Signals.
Index.