Audel Questions and Answers for Plumbers' Examinations, All New 4th Edition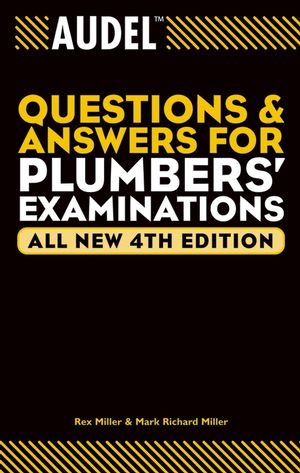 Audel Questions and Answers for Plumbers' Examinations, All New 4th Edition
ISBN: 978-0-764-56998-2 July 2004 384 Pages
Description
What's the best way to study?

The best guarantee of exam success is to know the material and be prepared for the questions you're likely to encounter. This book provides hundreds of questions and answers to help you review, tips for more productive studying, advice on how to approach the exam, a valuable chapter that outlines state licensing requirements for apprentice, journeyman, master, and inspector, and more-all designed to help you face the license exam with confidence.
* Study plumbing drawings, material takeoff pro-cedures, and typical system layouts
* Check your knowledge of plumbing mathematics
* Understand what plumbing installation inspections involve
* Become familiar with regulations for both the uniform and international codes
* Review residential trailer plumbing standards and private sewage treatment facilities
* Refresh your understanding of steam and hot water heating procedures
* Study the specific licensing requirements for your state and your experience level
Foreword.
Acknowledgments.
About the Authors.
Introduction.
Chapter 1: Basic Plumbing Installation Principles.
Chapter 2: Plumbing Drawings, Material Takeoff Procedures, and Typical Plumbing System Layout.
Chapter 3: Mathematics.
Chapter 4: Materials and Fittings.
Chapter 5: Joints and Connections.
Chapter 6: Traps, Cleanouts, and Backwater Valves.
Chapter 7: New Flush Valves, Showers, and Faucets.
Chapter 8: Fixtures.
Chapter 9: Interceptors and Special and Indirect Plumbing Wastes.
Chapter 10: Drainage, Vents, and Vent Piping.
Chapter 11: Water Supply and Distribution.
Chapter 12: Private Sewage Treatment Facilities and Residential Trailer Plumbing Standards.
Chapter 13: Plastic Pipe and Fittings.
Chapter 14: Plumbing Installation Inspection Tests.
Chapter 15: Steam and Hot-Water Heating.
Chapter 16: License Requirements and Applications.
Appendix A: Miscellaneous Information.
Appendix B: Professional and Trade Associations.
Appendix C: Exercise Answers.
Glossary.
Index.