Auditing: A Practical Approach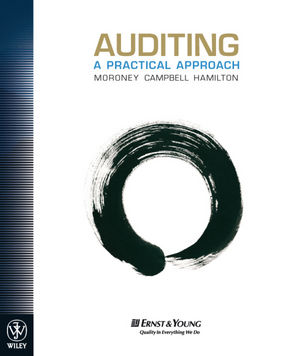 Auditing: A Practical Approach
ISBN: 978-1-742-16594-3
Dec 2011
488 pages
Description
Auditing: a Practical Approach is a new textbook written for students studying auditing at an undergraduate and postgraduate level. The text reflects how an audit is conducted in practice and the issues that are of greatest concern to auditors. Written by authors from academic and professional practice backgrounds the text has a practical orientation and presents essential audit topics supported with constructive pedagogy.

In order to communicate the key elements of the audit process a hypothetical case study, Cloud 9, underpins the audit process and methodology whilst providing a constant example of how general audit principles are applied in practice. With the educational trend to teach auditing with an industry and practical focus, the text will effectively develop a student's understanding of the various stages of an audit and how an audit is conducted in practice.
Preface.
Acknowledgements.
1 Introduction and overview of audit and assurance.
2 Ethics, legal liability and client acceptance.
3 Audit planning I.
4 Audit planning II.
5 Audit evidence 1.
6 Overview of tests of controls, substantive procedures and sampling.
7 Gaining an understanding of the client's system of internal controls.
8 Execution of the audit — testing of controls.
9 Execution of the audit — performing substantive procedures.
10 Substantive testing and balance sheet accounts.
11 Substantive testing and income statement accounts.
12 Completion and reporting on the audit.
Appendix.
Glossary.
Index.
 Aligned to the Auditing Clarity Standards
 Integrated case study, Cloud 9, explains how each chapter fits into the context of a hypothetical audit and provides a continuous example of how the concepts discussed are applied in practice
 Essential topics of auditing are covered
 Succinct and practical approach is unique and will engage students.

12 chapter table of contents ensures key audit process and methods are presented in a succinct and focused manner
 A flowchart begins each chapter providing an overview of the audit process, highlighting the stage covered in each chapter, what has come before and what is still to come
 A selection of end-of-chapter problems are derived from the Institute of Chartered Accountants CA Program
 The integrated case study, Cloud 9, can be used in weekly tutorial groups, for individual or group assignments.