Auditing For Dummies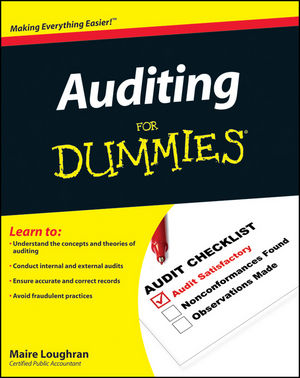 Auditing For Dummies
ISBN: 978-0-470-87757-9 June 2010 384 Pages
Description
The easy way to master the art of auditing
Want to be an auditor and need to hone your investigating skills? Look no further. This friendly guide gives you an easy-to-understand explanation of auditing — from gathering financial statements and accounting information to analyzing a client's financial position. Packed with examples, it gives you everything you need to ace an auditing course and begin a career today.
Auditing 101 — get a crash course in the world of auditing and a description of the types of tasks you'll be expected to perform during a typical day on the job
It's risky business — find out about audit risk and arm yourself with the know-how to collect the right type of evidence to support your decisions
Auditing in the real world — dig into tons of sample business records to perform your first audit
Focus on finances — learn how both ends of the financial equation — balance sheet and income statement — need to be presented on your client's financial statements
Seal the deal — get the lowdown on how to wrap up your audit and write your opinion
After the audit — see the types of additional services that may be asked of you after you've issued your professional opinion
Table of contents
Introduction.
Part I: Getting an Auditing Initiation.
Chapter 1: Taking Auditing into Account.
Chapter 2: The Role of Auditing in Public Accounting.
Chapter 3: Understanding Professional Standards and Ethics.
Part II: Performing the Initial Auditing Steps.
Chapter 4: Getting Engaged: Preparing to Conduct an Audit.
Chapter 5: Assessing Audit Risk.
Chapter 6: Collecting and Documenting Audit Evidence.
Chapter 7: Auditing a Client's Internal Controls.
Chapter 8: Sampling the Records.
Part III: Auditing How a Client Conducts Business.
Chapter 9: The Revenue Process: Auditing How a Business Makes Money.
Chapter 10: The Purchasing Process: Auditing How a Business Spends Money.
Chapter 11: The Human Resources Process: Auditing Personnel Practices.
Chapter 12: Inventory Management: Auditing How a Business Manages Its Products.
Part IV: Focusing on a Client's Finances.
Chapter 13: Auditing Fixed and Intangible Assets.
Chapter 14: Auditing Long-Term Liabilities and Stockholder Equity.
Chapter 15: Auditing Cash and Investments.
Part V: Completing the Audit.
Chapter 16: Performing Final Due Diligence.
Chapter 17: Wrapping It Up: Issuing the Report.
Chapter 18: The Spectrum of Engagement Services.
Part VI: The Part of Tens.
Chapter 19: Ten Procedures to Obtain Audit Evidence.
Chapter 20: Ten Tips to Stay Educated in Audit Procedures.
Index.