Auditing Information Systems, 2nd Edition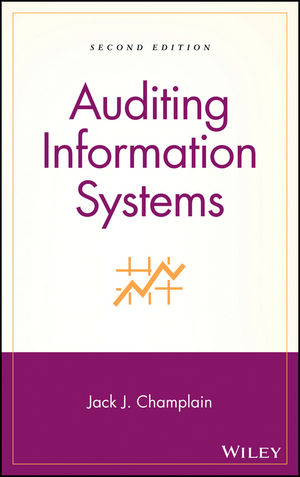 Auditing Information Systems, 2nd Edition
ISBN: 978-0-471-46629-1
Apr 2003
430 pages
Description
Have you been asked to perform an information systems audit and don't know where to start? Examine a company's hardware, software, and data organization and processing methods to ensure quality control and security with this easy, practical guide to auditing computer systems--the tools necessary to implement an effective IS audit. In nontechnical language and following the format of an IS audit program, you'll gain insight into new types of security certifications (e.g., TruSecure, CAP SysTrust, CPA WebTrust) as well as the importance of physical security controls, adequate insurance, and digital surveillance systems.

Order your copy today!
Preface.
Acknowledgments.
PART ONE: CORE CONCEPTS.
Chapter 1. Basics of Computing Systems.
Chapter 2. Identifying Computer Systems.
PART TWO: STANDARD INFORMATION SYSTEMS AUDIT APPROACH.
Chapter 3. Information Systems Audit Program.
Chapter 4. Information Systems Security Policies, Standards, and/or Guidelines.
Chapter 5. Auditing Service Organization Applications.
Chapter 6. Assessing the Financial Stability of Vendor Organizations, Examining Vendor Organization Contracts, and Examining Accounting Treatment of Computer Equipment and Software.
Chapter 7. Physical Security.
Chapter 8. Logical Security.
Chapter 9. Information Systems Operations.
PART THREE: CONTEMPORARY INFORMATION SYSTEMS AUDITING CONCEPTS.
Chapter 10. Control Self-Assessment and an Application in an Information Systems Environment.
Chapter 11. Encryption and Cryptography.
Chapter 12. Computer Forensics.
Chapter 13. Other Contemporary Information Systems Auditing Challenges.
Chapter 14. Humanistic Aspects of Information Systems Auditing.
Chapter 15. Information Systems Project Management Audits.
Chapter 16. Conclusion.
Appendix A: Professional Auditing Associations and Other Organizations Related to Information Systems Auditing and Computer Security.
Appendix B: Common Criteria for Information Technology Security Evaluation.
Appendix C: The International Organization for Standardization: Seven-Layer Open Systems Interconnection Reference Model.
Selected References.
Glossary.
Index.
The book provides a detailed examination of contemporary auditing issues such as:
Information systems audit approach (physical, logical, environmental security)
Security certifications such as SAS 70, TruSecure, SysTrust, and WebTrust
Computer forensics
E-Commerce and Internet security (including encryption and cryptography)
Information privacy laws and regulations
Information systems project management controls
New technologies and future risks