Australian and New Zealand Wine For Dummies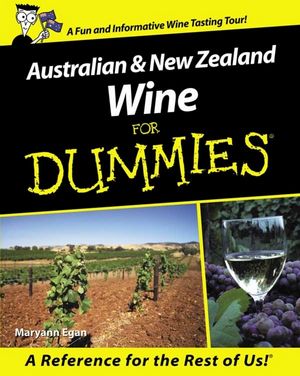 Australian and New Zealand Wine For Dummies
ISBN: 978-1-740-31008-6
Apr 2005
420 pages
Description
How to choose wines with confidence.
Enhance your wine knowledge and enjoyment while sipping your way through Australian & New Zealand Wine For Dummies. In plain English, this book helps you appreciate the rich choice of wines produced in these two serious winemaking countries. Whether buying online, over the counter or across the cellar door, this friendly reference guide is your perfect companion.
Discover how to:
Find out about the wine regions of Australia and New Zealand
Interpret wine labels
Understand grape varieties
Locate great wines
Track down your favorite wines online
Hone your own wine tastes
Buy Both and Save 25%!
Original Price:$38.98
Purchased together:$29.24
save $9.74
Cannot be combined with any other offers.
Introduction.
PART I: THE BIG WINE PICTURE DOWN IN AUSTRALIA AND NEW ZEALAND.
Chapter 1. Australian and New Zealand Wines: A Success Story.
Chapter 2. Uncorking Australian and New Zealand Wines.
Chapter 3. Decoding Aussie and Kiwi wine Labels.
Chapter 4. Bringing Home the Bounty: Modern Ways and Means.
PART II: HEADING TO NORTH OZ FOR THE WINE: NEW SOUTH WALES AND QUEENSLAND.
Chapter 5. The Hunter Valley.
Chapter 6. The Wine Bounty of Mudgee.
Chapter 7. Rounding Out the Smaller Top Spots in New South Wales.
Chapter 8. The Bouquet of the River Region.
Chapter 9. Travelling North to Sunshine and Wine in Queensland.
PART III: VICTORIA AND TASMANIA: SOMETHING DEVILISH ABOUT THOSE WINES.
Chapter 10. The Wines of the Yarra Valley.
Chapter 11. Victoria's Wine-Diverse Heartland.
Chapter 12. Heading North to Northern Victoria.
Chapter 13. Down by the Sea: The Peninsulas and Gippsland.
Chapter 14. Sunbury and Macedon Ranges.
Chapter 15.  Tasmania: Wines of a Cool Climate.
PART IV: THE WINE REGIONS OF SOUTH AUSTRALIA AND WESTERN AUSTRALIA.
Chapter 16. Meandering through McLaren Vale.
Chapter 17. Ambling around Adelaide.
Chapter 18. A Tale of Three Valleys: Barossa, Eden and Clare.
Chapter 19. Along the Limestone Coast.
Chapter 20. Riverland: On the Banks of the Mighty Murray.
Chapter 21. Capital Stuff in and around Perth.
Chapter 22. South West Australia: Beaches, Forests and Sunshine.
Chapter 23. Fulfilling Its Promise: The Great Southern Land.
PART V: NEW ZEALAND WINES.
Chapter 24: Liquid Gold from New Zealand's North Island.
Chapter 25. Liquid Distinction from New Zealand's Cool South Island.
PART VI: THE PART OF TENS.
Chapter 26. Ten Best Web Sites for Wine Buffs.
Chapter 27. Ten (Plus a Few) Best Wines in Australia and New Zealand.
Chapter 28. Ten (Plus One) Of the Best Winery Cellar Doors.
Appendix. Publications to Keep You Right Up to Date.
Index.