Autism: Neural Basis and Treatment Possibilities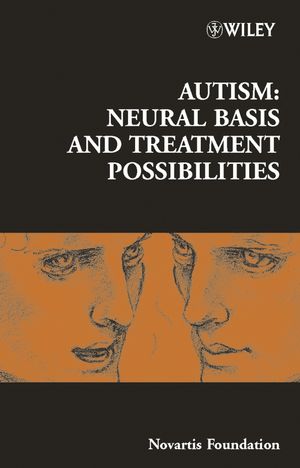 Autism: Neural Basis and Treatment Possibilities
ISBN: 978-0-470-85099-2
Aug 2003
320 pages
Description
This book draws together contributions from some of the leading investigators in the field of autism to consider specific problem areas in current research. Each contributor brings expertise from a different field, providing a balanced view of the whole spectrum of study of this disorder. It covers four main areas:
Twin and family studies indicate that the heritability of the underlying liability to autism exceeds 90% and point to a multifactorial causation, involving a relatively small number of susceptibility genes. The book discusses this issue in detail, along with the problem of why some additional symptoms are associated with autism while others are not.
New techniques are available for examining the neurobiology of autism. The book contains results from imaging studies showing the contributions of different brain regions to autism. It includes neuropathological data and examines the neuropharmacology of autism.
There is considerable discussion concerning the fundamental psychological deficit in children with autism. There is good evidence that ""Theory of Mind"" deficits are associated with autism and this issue is discussed in the book, as are other competing possibilities.
The most important practical question facing medical and psychological practitioners is how to help children with autism. The evidence relating to possible psychological or psychiatric interventions for rehabilitation of children with autism is examined in detail. Drug treatments have generally been disappointing in this field and there is one chapter devoted specifically to this problem.
The book focusses ultimately on intervention studies and so is of practical relevance to people interested in helping autistic children. In addition, it provides a very convenient summary of the principal controversies which currently exist in research on autism.
Introduction: autism - the challenges ahead (M. Rutter).
Epidemiology and early identification of autism: research challenges and opportunities (T. Charman).
Implications of the broader phenotype for concepts of autism (A. Bailey and J. Parr).
Strategies for autism candidate gene analysis (G. Barnby and A. Monaco).
How might genetic mechanism operate in autism? (S. Folstein, et al).
X-linked genes and the neural basis of social cognition (D. Skuse).
The neuropathology of the autism spectrum disorders: what have we learned? (M. Bauman and T. Kemper).
Microbiology and immunology of autism spectrum disorders (W. Lipkin and M. Hornig).
What do imaging studies tell us about the neural basis of autism? (C. Frith).
The Amygdala, autism and anxiety (D. Amaral and B. Corbett).
Cognition in autism: one deficit or many? (F. Happé).
Autism and specific language impairment: categorical distinction or continuum? (D. Bishop).
Why have drug treatments been so disappointing? (J. Buitelaar).
Can early interventions alter the course of autism? (P. Howlin).
Early intervention and brain plasticity in autism (G. Dawson and K. Zanolli).
Final discussion.
Summing up (M. Rutter).
Index of contributors.
Subject index.
""...well-structured and an easy read - essential for professionals, academics and students who are interested in autism and its treatment..."" (The Psychologist, Vol 17(1), Jan 2004)