AutoCAD® 2009 and AutoCAD LT® 2009: No Experience RequiredTM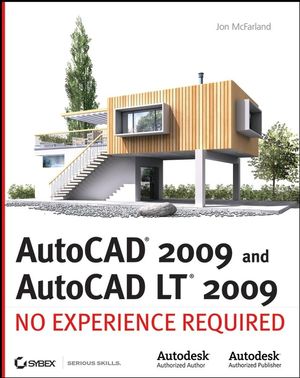 AutoCAD® 2009 and AutoCAD LT® 2009: No Experience RequiredTM
ISBN: 978-0-470-26058-6
Apr 2008
840 pages
Product not available for purchase
Description
AutoCAD 2009 and AutoCAD LT 2009: No Experience Required is the perfect step-by-step introduction to the very latest version of the world's leading CAD software. It provides concise explanations and practical tutorials that clearly show you how to plan and develop a customized AutoCAD project. Follow the tutorials sequentially or just jump in at any chapter by downloading the drawing files from the companion website. Either way, you'll master AutoCAD features, get a thorough grounding in the essentials, and see quick results.
Introduction.
Chapter 1 Getting to Know AutoCAD.
Chapter 2 Learning Basic Commands to Get Started.
Chapter 3 Setting Up a Drawing.
Chapter 4 Developing Drawing Strategies: Part 1.
Chapter 5 Developing Drawing Strategies: Part 2.
Chapter 6 Using Layers to Organize Your Drawing.
Chapter 7 Combining Objects into Blocks.
Chapter 8 Controlling Text in a Drawing.
Chapter 9 Using Dynamic Blocks and Tables.
Chapter 10 Generating Elevations.
Chapter 11 Working with Hatches, Gradients, and Tool Palettes.
Chapter 12 Dimensioning a Drawing.
Chapter 13 Managing External References.
Chapter 14 Using Layouts to Set Up a Print.
Chapter 15 Printing an AutoCAD Drawing.
Chapter 16 Creating 3D Geometry.
Chapter 17 Rendering and Materials.
Glossary.
Index.