AutoCAD 2000 Bible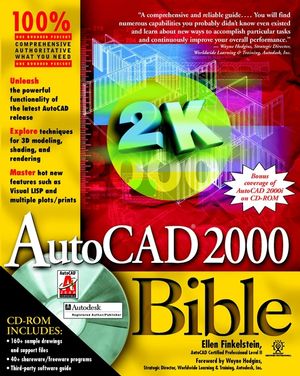 AutoCAD 2000 Bible
ISBN: 978-0-764-53268-9
Sep 1999
1344 pages
Product not available for purchase
Description
Packed with practical, real-world examples and authoritative advice, the AutoCAD 2000 Bible is your complete guide to the fastest, smoothest AutoCAD yet. Expert author Ellen Finkelstein shows you how to master every aspect of this powerful design software, from fundamental commands and VBA programming to hot new features such as Visual LISP, improved 3D editing, multiple plots/prints, better text handling, and more flexible dimensions.
Foreword.

Preface.

Acknowledgments.

PART I: AutoCAD Basics.

Chapter 1: Starting to Draw.

Chapter 2: Opening a Drawing.

Chapter 3: Using Commands.

Chapter 4: Specifying Coordinates.

Chapter 5: Setting Up a Drawing.

PART II: Drawing in Two Dimensions.

Chapter 6: Drawing Simple Lines.

Chapter 7: Drawing Curves and Point Objects.

Chapter 8: Viewing Your Drawing.

Chapter 9: Editing Your Drawing: Basic Tools.

Chapter 10: Editing Your Drawing: Advanced Tools.

Chapter 11: Organizing Drawings with Layers, Colors, Linetypes, and Lineweights.

Chapter 12: Getting Information from Your Drawing.

Chapter 13: Creating Text.

Chapter 14: Drawing Dimensions.

Chapter 15: Creating Dimension Styles and Tolerances.

Chapter 16: Drawing Complex Objects.

Chapter 17: Plotting and Printing Your Drawing.

PART III: Working with Data.

Chapter 18: Working with Blocks and Attributes.

Chapter 19: Referencing Other Drawings.

Chapter 20: Working with External Databases.

PART IV: Drawing in Three Dimensions.

Chapter 21: Specifying 3D Coordinates.

Chapter 22: Viewing 3D Drawings.

Chapter 23: Creating 3D Surfaces.

Chapter 24: Creating Solids and Editing in 3D.

Chapter 25: Rendering in 3D.

PART V: Organizing and Managing Drawings.

Chapter 26: Keeping Control of Your Drawings.

Chapter 27: Working with Other Applications.

Chapter 28: Getting on the Internet.

PART VI: Customizing AutoCAD.

Chapter 29: Customizing Commands and Toolbars.

Chapter 30: Creating Macros and Slide Shows with Script Files.

Chapter 31: Creating Your Own Linetypes and Hatch Patterns.

Chapter 32: Creating Shapes and Fonts.

Chapter 33: Customizing Menus.

PART VII: Programming AutoCAD.

Chapter 34: Understanding AutoLISP and Visual LISP Basics.

Chapter 35: Exploring AutoLISP Further.

Chapter 36: Exploring Advanced AutoLISP Topics.

Chapter 37: Programming with Visual Basic for Applications.

Appendix A: Installing and Configuring AutoCAD.

Appendix B: AutoCAD 2000 Menus and Toolbars.

Appendix C: Command and System Variable Changes.

Appendix D: AutoCAD Resources.

Appendix E: What's on the CD-ROM.

Index.

End-User License Agreement.

GNU General Public License.

CD-ROM Installation Instructions.