AutoCAD 2002 Complete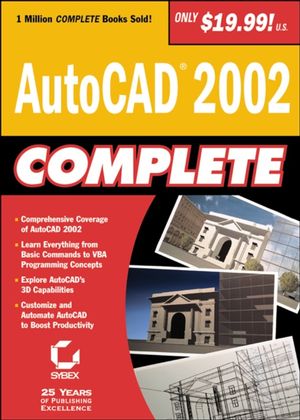 AutoCAD 2002 Complete
ISBN: 978-0-782-12967-0
Jan 2002
992 pages
Product not available for purchase
Description
AutoCAD 2002 Complete is a one-of-a-kind book--valuable both for its broad content and its low price. This book will teach you everything you need to know about the latest release of the world's leading computer-aided design software. With AutoCAD 2002 Complete you'll quickly take advantage of all that AutoCAD 2002 has to offer. Learn basic commands, create drawings, add text and hatch patterns, and use blocks to work more efficiently. Generate 3D scenes and enhance your 3D modeling skills. Customize AutoCAD and create AutoLISP routines and VBA macros to automate tasks. AutoCAD 2002 Complete introduces you to the work of some of Sybex's finest authors, so you'll know where to go to learn even more about this powerful design and drafting program and related tools.
Inside:
Getting Started with AutoCAD 2002
* Starting Up AutoCAD 2002
* Understanding How Commands Work
* Creating Your First Drawing
Learning Basic Drafting
* Basic Commands
* Drawing Strategies
* Putting Text into a Drawing
* Creating Hatch Patterns
* Using Dimensions
* Grouping Objects into Blocks
* Storing and Linking Data with Graphics
3D Modeling
* Using Advanced 3D Features
* Mastering 3D Solids
* Integrating AutoCAD and 3D Studio VIZ
Customization and Programming
* Customization: Taking AutoCAD to the Limit
* Integrating AutoCAD into Your Projects and Organization
* Developing a Simple VBA Application
* Creating VBA Macros
* Exploring the IDE
* VBA Programming Concepts
* Understanding the AutoCAD Database
* Accessing the Drawing Database
* Data Types in a Drawing Database
Introduction.
Part I Getting Started.
Chapter 1 Starting Up AutoCAD 2000.
Chapter 2 Understanding How Commands Work.5
Chapter 3 Creating Your First Drawing.
Part II Basic Drafting.
Chapter 4 Basic Commands to Get Started.
Chapter 5 Gaining Drawing Strategies.
Chapter 6 Putting Text into a Drawing.
Chapter 7 Creating Hatch Patterns.
Chapter 8 Using Dimensions.
Chapter 9 Grouping Objects into Blocks.
Chapter 10 Storing and Linking Data with Graphics.
Part III 3D Modeling.
Chapter 11 Using Advanced 3D Features.
Chapter 12 Mastering 3D Solids.
Chapter 13 Using AutoCAD with VIZ.
Part IV Customization and Programming.
Chapter 14 Introduction to Customization.
Chapter 15 Integrating AutoCAD into Your Projects and Organization.
Chapter 16 Developing a Simple VBA Application.
Chapter 17 Creating VBA Macros.
Chapter 18 Quick Tour of the IDE.
Chapter 19 VBA Programming Concepts.
Chapter 20 Understanding the AutoCAD Database.
Chapter 21 Accessing the Drawing Database.
Chapter 22 Data Types in a Drawing Database.3
Appendix A 3D Rendering in AutoCAD.
Index.
Download Images
Download a .zip file with all the images referenced in the book.
To uncompress the file, Windows users can use Windows built-in ZIP utilities or a 3rd party utility like WinZip or WinRAR. Macintosh users can simply double-click the downloaded file to extract using the built-in archive utility.
Download
Chapter
Page
Details
Date
Print Run
Combined Errata,

Page 446

Step# 10 -should be Modify > Solids Editing > Union .

Page 451

Step #7, the "@" symbol is missing from the coordinates.
Coordinates should read:

@0.75<90
@0.75<0
@0.7071<315
@0.5<0
@0.7071<45
@0.75<0
@0.75<270