AutoCAD 2002 For Dummies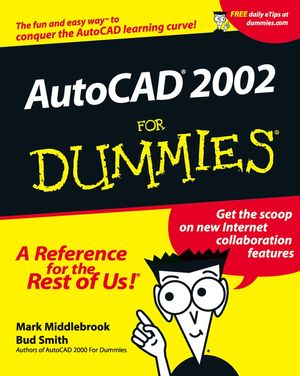 AutoCAD 2002 For Dummies
ISBN: 978-0-764-50898-1 August 2001 408 Pages
Description
With AutoCAD 2002 For Dummies you can start designing with the world's top drafting software -? no prior knowledge required. This book helps you learn both the menu and toolbar access to commands; maximize productivity by learning how to customize AutoCAD to fit the way you work; and speed up your work by using the command line as an accelerator.

This book covers product enhancements first introduced with the AutoCAD 2000i interim software. These key new features include internet-driven design capabilities. Now you can publish to the Web and collaborate with designers and customers online. Also, the user interface has been updated to bring it into closer alignment with the standard Microsoft Windows interface.
Table of contents
Introduction.

PART I: AutoCAD 101.

Chapter 1: Introducing AutoCAD 2002.

Chapter 2: Le Tour de AutoCAD 2002.

Chapter 3: Your (Drafting) Table Is Ready.

Chapter 4: Setup for Success.

PART II: Let There Be Lines.

Chapter 5: Get Ready to Draw.

Chapter 6: Where to Draw the Line.

Chapter 7: Edit for Credit.

Chapter 8: A Zoom with a View.

PART III: If Drawings Could Talk.

Chapter 9: Text with Character.

Chapter 10: Entering New Dimensions.

Chapter 11: Down the Hatch.

Chapter 12: The Plot Thickens.

PART IV: Share and Share Alike.

Chapter 13: Playing Blocks and Rasteroids.

Chapter 14: Data-Based Drawing.

Chapter 15: Drawing on the Internet.

PART V: The Part of Tens.

Chapter 16: Ten Ways to Do No Harm.

Chapter 17: Ten Ways to Swap Drawing Data with Other People and Programs.

Glossary.

Index.

Book Registration Information.