AutoCAD 2004 and AutoCAD LT 2004: No Experience Required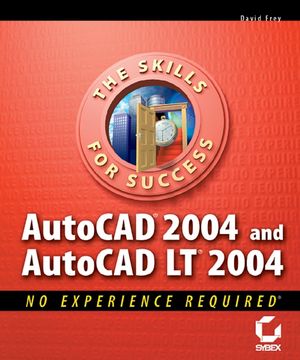 AutoCAD 2004 and AutoCAD LT 2004: No Experience Required
ISBN: 978-0-782-15175-6
Feb 2006
704 pages
Product not available for purchase
Description
AutoCAD 2004 and AutoCAD LT 2004: No Experience Required is your step-by-step introduction to the latest versions of AutoCAD and AutoCAD LT, the industry-leading design and drafting programs used by architects, engineers, drafters, and design teams worldwide. Inside this perfectly-paced guide are the clear-cut explanations and practical, step-by-step tutorials that you need to create, develop, and complete even the most elaborate AutoCAD projects.
Gain the Imperative AutoCAD Skills
Finding your way around AutoCAD and LT
Understanding basic commands
Applying AutoCAD's coordinate systems
Setting up a drawing
Mastering drawing strategies
Employing Polar and Object Snap Tracking
Setting up layers, colors, and linetypes
Using blocks and Wblocks
Dragging AutoCAD objects from one drawing to another
Generating elevations and orthographic views
Working with hatches and fills
Controlling text in a drawing
Managing external references
Setting up layouts and printing an AutoCAD drawing
Using AutoCAD's tool palettes
Creating and rendering a 3D model
Setting up attributes
Introduction.
Chapter 1: Getting to Know AutoCAD.
Chapter 2: Basic Commands to Get Started.
Chapter 3: Setting Up a Drawing.
Chapter 4: Gaining Drawing Strategies: Part 1.
Chapter 5: Gaining Drawing Strategies: Part 2.
Chapter 6: Using Layers to Organize Your Drawing.
Chapter 7: Grouping Objects into Blocks.
Chapter 8: Generating Elevations.
Chapter 9: Working with Hatches and Fills.
Chapter 10: Controlling Text in a Drawing.
Chapter 11: Dimensioning a Drawing.
Chapter 12: Managing External References.
Chapter 13: Using Layouts to Set Up a Print.
Chapter 14: Printing an AutoCAD Drawing.
Appendix A: A Look at Drawing in 3D.
Appendix B: An Introduction to Attributes.
Glossary.
Index.
Figures
These are the AutoCAD files you create as you work your way through the book, with the addition of a few text files and a couple of image files. Read the TXT file titled Chapters 12_13 Notes for an explanation of how the External Referenced files have been saved and organized.

Requires Stuffit Expander.

Download
Bonus Chapter: Making the Internet Work With AutoCAD
The following link is for downloading the bonus chapter from AutoCAD 2004 and AutoCAD LT 2004: No Experience Required.

Requires Adobe Reader.

Download
Web Supplement: Setting up a Title Block with Attributes
We have also included the chapter "Setting up a Title Block with Attributes" as a PDF. This chapter is a supplement to Appendix B, "An Introduction to Attributes." It will supplement your knowledge of attributes a powerful AutoCAD feature.

Requires Adobe Reader.

Download
Chapter
Page
Details
Date
Print Run
Combined Errata


Page 134

"Steps 1 through 3 for LT Users" sidebar: In step three, after you type 12 (enter), you must then press Enter again to end the tracking process and begin the line 12 inches to the left of the top of the left jamb line.




---