AutoCAD 2007 and AutoCAD LT 2007: No Experience Required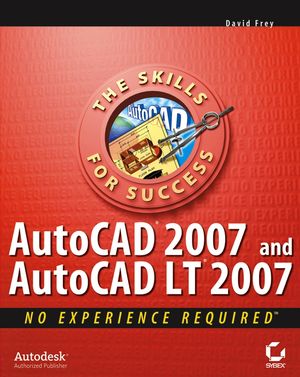 AutoCAD 2007 and AutoCAD LT 2007: No Experience Required
ISBN: 978-0-470-00877-5
May 2006
696 pages
Product not available for purchase
Description
AutoCAD 2007 and AutoCAD LT 2007: No Experience Required is the perfect step-by-step introduction to the world's leading CAD software. Inside this clear-cut guide are concise explanations and practical tutorials that explain how to plan and develop a complete AutoCAD project. Follow the tutorials sequentially, which have been fully updated for AutoCAD 2007, or jump in at any chapter by downloading the drawing files from the Sybex Web site. Either way, you'll quickly develop a solid grounding in the essentials and learn how to use AutoCAD's productivity tools to get your work done efficiently.


The latest edition of this perennial topseller also covers AutoCAD's revamped 3D design features and includes a glossary and a supporting Web site with project files, bonus chapters, and appendices.

Gain the AutoCAD skills you need:
* Get to know the AutoCAD interface, basic commands, and how to create drawings
* Build on your skills with grouping, elevations, hatches, and using text in drawings
* Graduate to dimensioning, setting external references; and mastering layouts, plotting, and printing
* Understand the new 3D capabilities that make AutoCAD 2007 the complete design tool

Access the supporting Web site for more instruction, including:
* Project files from the book
* Bonus chapter on using the Internet with AutoCAD
* Bonus appendices on attributes and dynamic blocks
Introduction.
Chapter 1: Getting to Know AutoCAD.
Chapter 2: Basic Commands to Get Started.
Chapter 3: Setting Up a Drawing.
Chapter 4: Gaining Drawing Strategies: Part 1.
Chapter 5: Gaining Drawing Strategies: Part 2.
Chapter 6: Using Layers to Organize Your Drawing.
Chapter 7: Grouping Objects into Blocks.
Chapter 8: Generating Elevations.
Chapter 9: Working with Hatches and Fills.
Chapter 10: Controlling Text in a Drawing.
Chapter 11: Dimensioning a Drawing.
Chapter 12: Managing External References.
Chapter 13: Using Layouts to Set Up a Print.
Chapter 14: Printing an AutoCAD Drawing.
Appendix A: Look at Drawing in 3D.
Glossary.
Index.
NEW! ONLINE INSTRUCTOR SUPPLEMENTS! Now available: Powerpoint slides, test bank and instructor's manual.

AutoCAD: NER is the only book that teaches the program's basics using a simple yet engaging tutorial that covers each phase of a summer cabin project.

Readers can follow the tutorial sequentially or jump in at any chapter by downloading the project files from the Wiley web site.

The short discussions and direct tutorial style allow instant gratification and is ideal for the novice. New commands and capabilities are reinforced so that readers become familiar with AutoCAD's features and gain confidence in their rising skill level.

AutoCAD: NER is written by an Autodesk Authorized Author and published by an Autodesk Authorized Publisher.

This update to the best-seller includes coverage of AutoCAD's entirely revamped 3D design features.
Download Bonus Appendix B
To view this PDF file, you may need to download Adobe Reader for free.
Download
Download Bonus Appendix C
To view this PDF file, you may need to download Adobe Reader for free.
Download
Download the Bonus Chapter: Making the Internet Work with AutoCAD
To view this PDF file, you may need to download Adobe Reader for free.
Download
Download the DWG Files
To view this ZIP archive, you may need to download a free trial of Stuffit Expander.
Download