AutoCAD 2008 and AutoCAD LT 2008: No Experience Required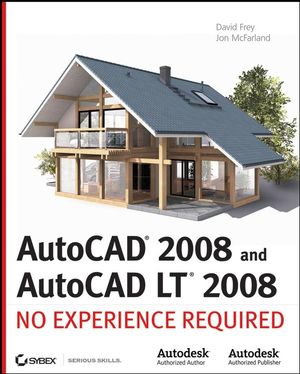 AutoCAD 2008 and AutoCAD LT 2008: No Experience Required
ISBN: 978-0-470-17503-3
Jul 2007
720 pages
Product not available for purchase
Description
Presenting you with the perfect step-by-step introduction to the world's leading CAD software, this this perennial bestseller is completely revised and features comprehensive, up-to-date coverage of the latest AutoCAD features, such as dynamic blocks, external references, and 3D design. You'll get concise explanations and practical tutorials that you can follow sequentially or jump in at any chapter by downloading the drawing files from the Sybex Web site, www.sybex.com/go/acadner2008. Either way, you'll master AutoCAD features, get a thorough grounding in its essentials, and see quick results.



For Instructors: Teaching supplements are available for this title.

 
Introduction.
1. Getting to know AutoCAD.
2. Basic Commands to Get Started.
3. Setting Up a Drawing.
4. Gaining Drawing Strategies: Part 1.
5. Gaining Drawing Strategies: Part 2.
6. Using Layers to Organize Your Drawing.
7. Grouping Objects into Blocks.
8. Controlling Text in a Drawing.
9. Dynamic Blocks and Tables.
10. Generating Elevations.
11. Working with Hatches and Fills.
12. Dimensioning a Drawing.
13. Managing External References.
14. Using Layouts and Sheet Sets.
15. Printing an AutoCAD Drawing.
16. Creating 3D Geometry.
17. Materials and Animation.
Glossary.
Index.
Instructor Suppplements: Power Points, Instructor's Manual, Test Bank.

AutoCAD: NER is the only book that teaches the program's basics using a simple yet engaging tutorial that covers each phase of a summer cabin project.

Students can follow the tutorial sequentially or jump in at any chapter by downloading the project files from the Wiley web site.

Short discussions and direct tutorial style allow instant gratification and is ideal for the novice. New commands and capabilities are reinforced so that readers become familiar with AutoCAD's features and gain confidence in their rising skill level.

AutoCAD: NER is written by an Autodesk Authorized Author and published by an Autodesk Authorized Publisher.

Most complete revision ever, thoroughly updating the best-seller to more fully incorporate such key technologies as sheet sets, dynamic blocks, Xrefs, and 3D design features.
Chapter
Page
Details
Date
Print Run
3
60
Text correction: Instructions for "Using the Grid" contradict Fig. 3.6
In Step 4., the second sentence should read:
"In the Grid Behavior area, be sure Adaptive Grid is checked and Display Grid Beyond Limits is unchecked."
Figure 3.6 shows the correct settings.
3/5/08

---