AutoCAD 2009 and AutoCAD LT 2009 Bible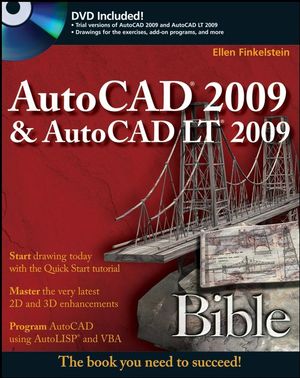 Description
Even Autodesk developers keep this book on hand!
Eight previous editions of fans ranging from novices to Autodesk insiders can't be wrong. This bestselling, comprehensive guide is your best, one-stop, go-to guide for everything you'll need to master AutoCAD. Whether you're an AutoCAD veteran exploring what's new or a novice seeking to start with the basics and progress to advanced programming, every feature is covered. Start drawing today with the one book you need to succeed with AutoCAD 2009.
Start drawing right away with the Quick Start project
Draw, view, and edit in 2D, then add text and dimensions
Reference other drawings and link data to objects
Build, view, and present complex 3D drawings
Customize commands, create shortcuts, and use scripts and macros
Program AutoCAD using AutoLISP and VBA
What's on the DVD?
Trial versions of AutoCAD 2009 and AutoCAD LT 2009
Over 300 before-and-after drawings from working AutoCAD professionals
A selection of helpful add-on programs
The entire book in searchable PDF
System Requirements: Please see the DVD appendix for details and system requirements.
Note: CD-ROM/DVD and other supplementary materials are not included as part of eBook file.
Foreword.
Preface.
Acknowledgments.
Part I: AutoCAD and AutoCAD LT Basics.
Quick Start: Drawing a Window.
Chapter 1: Starting to Draw.
Chapter 2: Opening a Drawing.
Chapter 3: Using Commands.
Chapter 4: Specifying Coordinates.
Chapter 5: Setting Up a Drawing.
Part II: Drawing in Two Dimensions.
Chapter 6: Drawing Simple Lines.
Chapter 7: Drawing Curves and Points.
Chapter 8: Viewing Your Drawing.
Chapter 9: Editing Your Drawing with Basic Tools.
Chapter 10: Editing Your Drawing with Advanced Tools.
Chapter 11: Organizing Drawings with Layers, Colors, Linetypes, and Lineweights.
Chapter 12: Obtaining Information from Your Drawing.
Chapter 13: Creating Text.
Chapter 14: Drawing Dimensions.
Chapter 15: Creating Dimension Styles.
Chapter 16: Drawing Complex Objects.
Chapter 17: Plotting and Printing Your Drawing.
Part III: Working with Data.
Chapter 18: Working with Blocks and Attributes.
Chapter 19: Referencing Other Drawings.
Chapter 20: Working with External Databases.
Part IV: Drawing in Three Dimensions.
Chapter 21: Specifying 3D Coordinates.
Chapter 22: Viewing 3D Drawings.
Chapter 23: Creating 3D Surfaces.
Chapter 24: Creating Solids and Editing in 3D.
Chapter 25: Rendering in 3D.
Part V: Organizing and Managing Drawings.
Chapter 26: Keeping Control of Your Drawings.
Chapter 27: Working with Other Applications.
Chapter 28: Creating Electronic Output.
Part VI: Customizing AutoCAD and AutoCAD LT.
Chapter 29: Customizing Commands, Toolbars, and Tool Palettes.
Chapter 30: Creating Macros and Slide Shows.
Chapter 31: Creating Your Own Linetypes and Hatch Patterns.
Chapter 32: Creating Shapes and Fonts.
Chapter 33: Customizing the Ribbon and Menus.
Part VII: Programming AutoCAD.
Chapter 34: Understanding AutoLISP and Visual LISP Basics.
Chapter 35: Exploring AutoLISP Further.
Chapter 36: Exploring Advanced AutoLISP Topics.
Chapter 37: Programming with Visual Basic for Applications.
Part VIII: Appendixes.
Appendix A: Installing and Configuring AutoCAD and AutoCAD LT.
Appendix B: AutoCAD and AutoCAD LT Resources.
Appendix C: What's on the DVD-ROM.
Index.
Links
Links from Appendix B of
AutoCAD 2009 and AutoCAD LT 2009 Bible
| | |
| --- | --- |
| Autodesk University | |
| Autodesk User Groups International (AUGI) | |
| Autodesk's courses | www.autodesk.com/store, then click the Learning and Training link. |
| Cadalyst magazine | |
| AUGIWorld | www.augi.com. After logging in (or registering), click the Publications link. |
| upfront eZine | www.upfrontezine.com/ or send the e-mail message ?subscribe upfront? to ralphg@xyzpress.com |
| AutoCAD Tips Newsletter | |
| Autodesk home page | |
| AUGI AutoCAD Community page | |
| Vancouver AutoCAD Users Society (VAUS) | |
| Autodesk's AutoCAD discussion group | news://discussion.autodesk.com | http://discussion.autodesk.com |
| AutoCAD home page | |
| CAD Depot | |
| TenLinks | |
| Cadwire | |
| CADInfo | |
| Better Than Nothing AutoLISP | |
| CAD Forum | |
| Dotsoft | |
| EllenFinkelstein.com | |
| HyperPics | |
| ManuSoft | |
| University of New South Wales | |
| Between the lines | |
| RobiNZ CAD Blog | |
| Beyond the UI | |
| Lynn Allen Blogs | |
| In the Dynamic Interface | |
| AutoCAD Insider | |
| Beth's CAD Blog | |
| CAD Panacea | |
| JTB World Blog | |
| Mistress of the Dorkness | |
| CAD-e-Corner | |
| Daily AutoCAD | |
| Kate?s CAD Tips for AutoCAD LT | |
| The AutoCAD LT Side of Things | |
| It?s Alive in the Labs | |
| BLAUGI | |
| Through the Interface | |
| AutoCAD Tips Blog | |