AutoCAD 2011 For Dummies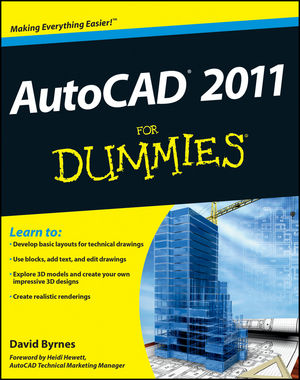 AutoCAD 2011 For Dummies
ISBN: 978-0-470-64970-1 April 2010 480 Pages
Description
A great way to get up and running fast with AutoCAD "X"!
If you're just learning AutoCAD, this friendly, For Dummies guide is perfect for you. You'll get up to speed on all the basics and start creating 2D and 3D technical drawings sooner than you might imagine. Learn how to create a basic drawing, use AutoCAD Design Center, edit your drawings, work with dimensions, add text, and much more. The book is straightforward, easy to follow, and includes practical tips and notes that demystify this complex software even further.
Gets you quickly up to speed on AutoCAD "X," the leading technical drawing software from Autodesk
Covers how to create a basic drawing, use AutoCAD Design Center, edit your drawings, use blocks, work with dimensions, add text, and draw on the Internet
Includes updates on the latest features in AutoCAD "X" focusing on those that matter most to beginners
Uses the popular For Dummies approach, which breaks down this intimidating topic into helpful, practical advice and how-tos for real people
AutoCAD "X" For Dummies is what you need to get up to speed and start designing with this market-leading software!
Foreword.
Introduction.
Part I: AutoCAD 101.
Chapter 1: Introducing AutoCAD and AutoCAD LT.
Chapter 2: Le Tour de AutoCAD 2011.
Chapter 3: A Lap around the CAD Track.
Chapter 4: Setup for Success.Chapter 5: Planning for Paper.
Part II: Let There Be Lines.
Chapter 6: Manage Your Properties.
Chapter 7: Preciseliness Is Next to CADliness.
Chapter 8: Down the Straightaway.
Chapter 9: Dangerous Curves Ahead.
Chapter 10: Get a Grip on Object Selection.
Chapter 11: Edit for Credit.
Chapter 12: A Zoom with a View.
Part III: If Drawings Could Talk.
Chapter 13: Text with Character.
Chapter 14: Entering New Dimensions.
Chapter 15: Down the Hatch.
Chapter 16: The Plot Thickens.
Part IV: Advancing with AutoCAD.
Chapter 17: The ABCs of Blocks.
Chapter 18: Going Dynamic and External.
Chapter 19: Call the Parametrics!
Chapter 20: Drawing on the Internet.
Part V: On a 3D Spree.
Chapter 21: It's a 3D World After All.
Chapter 22: From Drawings . . . to Models.
Chapter 23: On a Render Bender.
Part VI: The Part of Tens.
Chapter 24: Ten Great AutoCAD Resources.
Chapter 25: Ten Differences between AutoCAD and AutoCAD LT.
Chapter 26: Ten System Variables to Make Your Life Easier.
Index.