Autodesk Revit Architecture 2011: No Experience Required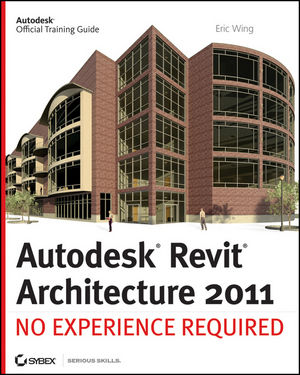 Autodesk Revit Architecture 2011: No Experience Required
ISBN: 978-0-470-90467-1
Jul 2010
1008 pages
Product not available for purchase
Description
Learn Revit Architecture step by step with this project-based tutorial
Revit Architecture is the leading Building Information Modeling (BIM) software for architects and others in related fields. Written by renowned Revit trainer Eric Wing, this simple, yet engaging tutorial teaches you the program's basics.
You'll find concise explanations, focused examples, step-by-step instructions, and an engaging hands-on tutorial project that will take you from an introduction to the interface and Revit conventions right in to modeling a four-story office building.
Explains views, grids, and the program's editing capabilities, and then progresses as the building's design would in the real world
Encourages you to work with structural grids, beams, and foundations and shows you how to add text and dimensions, as well as understand how to use dimensions as a design tool
Walks you through building floors layer by layer and joining them to exterior and interior walls, and creating and editing roofs and ceilings as well as stairs, ramps, and railings
Even with no experience, Revit Architecture and its accompanying Web site will support you as you learn Revit at your own pace.
1 The Revit World.
2 Creating a Model.
3 Creating Views.
4 Working with the Revit Tools.
5 Dimensioning and Annotating.
6 Floors.
7 Roofs.
8 Structural Items.
9 Ceilings and Interiors.
10 Stairs, Ramps, and Railings.
11 Schedules and Tags.
12 Detailing.
13 Creating Specific Views and Match Lines.
14 Creating Sheets and Printing.
15 Creating Room and Area Plans.
16 Advanced Wall Topics.
17 Creating Families.
18 Site and Topography.
19 Rendering and Presentation.
20 Importing and Coordinating Revit Models.
21 Phasing and Design Options.
22 Project Collaboration.
23 BIM Management.
Chapter
Page
Details
Date
Print Run
1
23
Text correction: Order of steps reversed in exercise
Steps 11 and 12 are reversed. The step numbered 12 should be executed before the step numbered 11.
10/29/10
1st

---

2
91
Incorrect figure: Figure 2.75
Figure 2.75 as printed in the book is a duplicate of Figure 2.74. You can download a .tif file of the correct Figure 2.75 on the Resources and Downloads tab.
7/7/10
1st

---