Autodesk Revit Architecture 2012: No Experience Required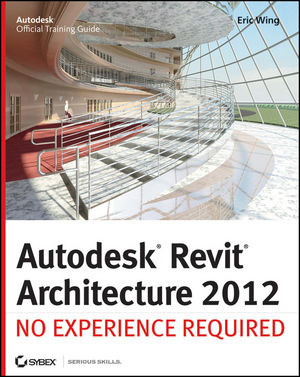 Autodesk Revit Architecture 2012: No Experience Required
ISBN: 978-0-470-94506-3
Jun 2011
1032 pages
Product not available for purchase
Description
This Autodesk Official Training Guide teaches Revit to new users
The perfect introduction to Revit Architecture, Autodesk?s building information modeling (BIM) software, this unique and highly effective guide uses a continuous, step-by-step tutorial to build your skills. You?ll first get to know the Revit interface and basic conventions, then quickly move right into designing, documenting, and modeling a four-story office building. Place walls, windows, and doors; add floors ceilings, railings, and stairs; create construction documentation?and that?s just for starters! You?ll be amazed by how rapidly you can progress.
Teaches you how to use Autodesk Revit Architecture, Autodesk?s industry-leading building information modeling (BIM) software
Uses a continuous, step-by-step tutorial that progresses through the book, teaching you how to design, document, and present a four-story building
Covers structural grids, beams, and foundations; adding text and dimensions; building floors layer by layer; joining exterior and interior walls; creating roofs and ceilings; and much more
Introduces embedded families and formulas, crucial site considerations, and importing and exporting to various formats
Includes a Web site with before-and-after tutorial files so readers can compare their work
Best of all, this guide is self-paced. Follow the tutorial sequentially?or jump into just the chapters you want by downloading the project files from the companion Web site.
Introduction.
Chapter 1 The Revit World.
Chapter 2 Creating a Model.
Chapter 3 Creating Views.
Chapter 4 Working with the Revit Tools.
Chapter 5 Dimensioning and Annotating.
Chapter 6 Floors.
Chapter 7 Roofs.
Chapter 8 Structural Items.
Chapter 9 Ceilings and Interiors.
Chapter 10 Stairs, Ramps, and Railings.
Chapter 11 Schedules and Tags.
Chapter 12 Detailing.
Chapter 13 Creating Specif ic Views and Match Lines.
Chapter 14 Creating Sheets and Printing.
Chapter 15 Creating Rooms and Area Plans.
Chapter 16 Advanced Wall Topics.
Chapter 17 Creating Families.
Chapter 18 Site and Topography.
Chapter 19 Rendering and Presentation.
Chapter 20 Importing and Coordinating Revit Models.
Chapter 21 Phasing and Design Options.
Chapter 22 Project Collaboration.
Index.