Autodesk Revit Architecture 2012 Essentials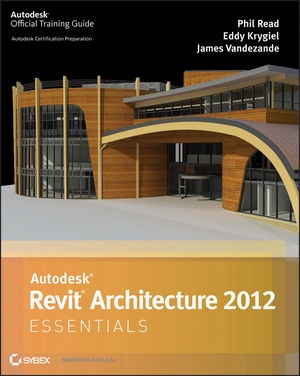 Description
Get the Essentials on Autodesk's fastest-growing software package!
The new Essentials series from Sybex helps you quickly learn and use Autodesk software. This beautiful, task-based, full-color Autodesk Official Training Guide thoroughly covers the fundamentals of Revit Architecture, teaching readers what they need to become quickly productive with this popular building information modeling (BIM) architectural design software.
By following the book's clear explanations, practical tutorials, and step-by-step exercises, you'll cover all the essentials of a typical design workflow. Topics include how to best use the interface, creating floor plans, adding walls and curtain walls, generating color fill plans, preparing documentation, as well as annotating, collaborating, and more. This four-color Essentials guide provides you with the fast and thorough grounding you need in Revit Architecture.
Covers Revit Architecture 2012 fundamentals, so you become quickly productive with the software
Prepares you for the Revit Architecture Associate and Professional certification exams
Uses straightforward explanations and real-world, hands-on exercises and tutorials to teach the software's core features and functions
Helps you quickly develop the skills needed throughout a project, whether you're a beginner or a more experienced user brushing up on the basics
Go from concepts to complete construction documents with this essential, full-color guide.
Introduction.
Chapter 1 Introducing Revit and the User Interface.
Understanding the Revit Interface.
Properties Palette.
Project Browser.
Status Bar.
View Control Bar.
ViewCube.
Options Bar.
Understanding the Interface Workflow.
Creating a Simple Layout.
Using Filter, Mirror, and Trim/Extend.
Adjusting Datums.
Changing Element Types.
Using Common Modifying Tools.
Using Dimensions for Modifying Designs.
Aligning Elements.
Rotating, Grouping, and Arraying.
Aligned Copying and Group Editing.
Chapter 2 Schematic Design.
Working from a Sketch.
Importing Background Images.
Accurately Scaling Images.
Reference Planes and Levels.
Creating and Placing Groups.
Modeling In-Place Masses.
Modeling the Base Mass.
Modeling the Middle Mass.
Modeling the Upper Mass.
Working in 3D.
Creating Mass Floors.
Scheduling Mass Floors.
Updating the Massing Study.
Chapter 3 Walls and Curtain Walls.
Creating Generic Walls.
Creating Numerous Wall Configurations.
Sketching Walls.
Picking Walls.
Hosting Elements in Walls.
Containing Spaces.
Modifying Walls.
Instance Parameters.
Editing and Resetting Profiles.
Attaching and Detaching Top and Base.
Resetting Profiles.
Cutting Openings.
Splitting Walls.
Swapping Walls.
Creating Curtain Walls.
Grid Lines.
Adding Mullions.
Embedding Curtain Walls.
Modifying Curtain Walls.
Editing the Elevation Profile.
Adding and Modifying Grids and Mullions.
Unpinning and Toggling Mullions.
Adding and Modifying Panels.
Adding and Modifying the Curtain Panel Door.
Understanding Basic Wall Parts and Parameters.
Basic Walls.
Stacked Walls.
Curtain Wall Types.
Just One More Thing.
Chapter 4 Floors, Roofs, and Ceilings.
Creating Floors.
Sketching.
Editing the Boundary.
Sloped Arrows and Floors.
Sloped Floors via Shape Editing.
Creating Openings by Sketching.
Creating Openings with Shafts.
Picking Walls.
Laying Out Roofs.
Picking Walls.
Extruded Roofs.
Adding Ceilings.
Automatic Ceilings.
Sketching Ceilings.
Bulkhead Conditions.
Adding Lights and Rotating the Grid.
Changing the Ceiling.
Sloping the Ceiling.
Chapter 5 Stairs, Ramps, and Railings.
Creating Numerous Stair Configurations.
Creating the "Generic" Railing.
Creating Your Design Stair.
Straight Run.
Straight Run with Landing.
Multistory Runs.
Setting the Host Function for Railings.
Designing Ramps.
Straight Runs.
Editing Boundary Conditions.
Building Railings for Level and Sloped Conditions.
Set Host Function.
Working with Parts, Parameters, and Properties.
Stair Parameters.
Ramp Parameters.
Railing Parameters.
Just One More Thing.
Chapter 6 Adding Families.
Understanding Different Family Types.
Loading Families.
Placing Families.
Annotations.
Profiles.
Detail Components.
Repeating Details.
Title Blocks.
Level Based.
Face Based.
Hosted.
Chapter 7 Modif ying Families.
Editing View Display and Detail Level.
View Display.
Level of Detail.
Changing the Family Category.
Editing the Family.
Family Category and Parameters.
Editing the Insertion Point.
Modifying Family Geometry.
Editing the Family.
Editing Profiles.
Detail Components.
Repeating Details.
Title Blocks.
Hosted Components.
Chapter 8 Groups and Phasing.
Using Groups.
Creating Groups.
Copying Groups.
Duplicating Groups.
Editing Groups.
Exchanging Groups.
Saving Groups.
Loading Groups.
Some Best Practices.
Using Phasing.
Geometry Phases.
View Phases.
Demolition and Proposed Elements.
Completed Views.
Chapter 9 Rooms and Color Fill Plans.
Tagging Spaces with Room Tags.
Room Tags.
Room Boundaries.
Room Separation Lines.
Creating Room Keys.
Creating Key Fields.
Modifying Key Fields.
Generating Color Fill Room Plans.
Adding a Color Legend.
Modifying Color Legends.
Adding Tags and Fill Colors in Section.
Chapter 10 Worksharing.
Enabling Worksharing.
Saving the File.
Creating Central and Local Files.
Creating the Central File.
Creating the Local File.
Adding Worksets.
Workset Visibility.
Assigning Elements to Worksets.
Saving to the Central File.
Creating New Elements.
Opening and Closing Worksets.
Using Workset Display Filters.
Using Worksharing to Work with Consultants.
Using Guidelines for Worksharing.
Chapter 11 Details and Annotations.
Creating Details.
Detail Line.
Regions.
Components.
Creating a Detail.
Insulation.
Detail Groups.
Linework.
Annotating Your Details.
Dimensions.
Tags.
Text.
Legends.
Chapter 12 Creating Drawing Sets.
Creating Schedules.
Understanding Schedules.
Making Schedules.
Placing Views on Sheets.
Adding Floor Plans to the Sheet.
Adding the Schedules.
Printing Documents.
The Print Dialog Box.
Print Settings.
Options.
Chapter 13 Workf low and Other Revit Essentials.
Understanding a BIM Workflow.
Staffing a BIM project.
Project Roles Using Revit.
Adding Team Members to Fight Fires.
Modeling Site.
Using a Toposurface.
Creating a Building Pad.
Detailing in Revit.
How many times will you see the detail in the model?
What scale are you drawing your detail in?
How good are you at using Revit?
Performing Quality Control on Your Revit Model.
Keeping an Eye on File Size.
Purging Unused Families and Groups.
Cutting Down on the Number of Views.
Finding Errors and Warnings.
Chapter 14 Tips, Tricks, and Troubleshooting.
Optimizing Performance.
Using Best Practices.
Fixing File Corruption.
Learning Tips and Shortcuts.
Finding Additional Resources.
Appendix Revit Certif ication.
Index.