Autoimmunity, Part C: The Mosaic of Autoimmunity, Volume 1107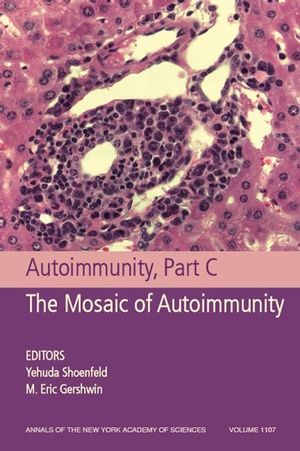 Autoimmunity, Part C: The Mosaic of Autoimmunity, Volume 1107
ISBN: 978-1-573-31662-0
Aug 2007, Wiley-Blackwell
400 pages
Description
The incidence of autoimmune diseases is increasing worldwide, and the search for better management of these diseases and even for a cure is being pursued by scientists from many disciplines. Tools from the areas of genetics, neuorscience, cell biology, virology, and infectious disease are being applied to the problem and are yielding useful results.

This is the third volume of a series of four on autoimmunity, and findings related to particular organs, organ systems, and diseases are presented. The focus in Part C is on autoimmunity and vessel pathology, the neurologic system, cancer, the GI tract, diabetes, the lung, and the heart.

Autoimmunity, Part D completes the group of volumes and also presents research focusing on clinical manifestations of autoimmunity. See Parts A and B for basic research findings.

NOTE: Annals volumes are available for sale as individual books or as a journal. For information on institutional journal subscriptions, please visit www.blackwellpublishing.com/nyas.

ACADEMY MEMBERS: Please contact the New York Academy of Sciences directly to place your order (www.nyas.org). Members of the New York Academy of Science receive full-text access to the Annals online and discounts on print volumes. Please visit http://www.nyas.org/MemberCenter/Join.aspx for more information about becoming a member
Foreword: Yehuda Shoenfeld and M. Eric Gershwin.
Part I: Autoimmunity and Vessel Pathology:.
1. Heat Shock Proteins and Autoimmunity in Patients with Carotid Atherosclerosis: Rachele Riganò, Elisabetta Profumo, Brigitta Buttari, Angela Tagliani, Linda Petrone, Giulia D'Amati, Flora Ippoliti, Raffaele Capoano, Lorenzo Fumagalli, Bruno Salvati, Rita Businaro.
2. Atherosclerosis in Anca-Associated Vasculitides: Christian Pagnoux, Gilles Chironi, Alain Simon, Loïc Guillevin.
3. CD4-Positive Effector Memory T-cells Participate in Disease Expression in ANCA-Associated Vasculitis: Wayel H. Abdulahad, Coen A. Stegeman, Pieter C. Limburg, Cees G.M. Kallenberg.
4. Surface Expression of Fractalkine Receptor (CX3CR1) on CD4+/CD28- T Cells in RA Patients and Correlation with Atherosclerotic Damage: Elisa Pingiotti, Paola Cipriani, Alessandra Marrelli, Vasiliki Liakouli, Simona Fratini, Maria Penco, Roberto Giacomelli.
5. Free Hemoglobin: A Dangerous Signal for the Immune System in Patients with Carotid Atherosclerosis?: Brigitta Buttari, Elisabetta Profumo, Linda Petrone, Donatella Pietraforte, Alessandra Siracusano, Paola Margutti, Federica Delunardo, Elena Ortona, Maurizio Minetti, Bruno Salvati, Rachele Riganò.
6. Lupus Anticoagulant Activity as a Thrombosis Risk Factor in Lung Adenocarcinoma Patients. By Ernesto de Meis, Vera R. Pinheiro, Maria Aparecida L. Lourdes, Maria Mercedes Kotouc, Mauro M. Zamboni, Maria Tereza S. Guedes, Ailce S. Barros, Ilda Akemi M. Castilho, Roger A. Levy.
7. Chronic Inflammatory, Autoimmune Disorders and Atherosclerosis: S. Abou-Raya, A. Abou-Raya, A. Naim, H. Abuelkheir.
Part II: Autoimmunity and the Neurologic System:.
8. Migratory Pathways of gd T Cells and Response to CXCR3 and CXCR4 Ligands: Adhesion Molecules Involved and Implications for Multiple Sclerosis Pathogenesis: A. Poggi, M. Zancolloi, S. Catellani, G. Borsellino, L. Battistini, M.R. Zocchi.
9. Autoantibodies in Autism Spectrum Disorders (ASD). By Sharifia Wills, Maricel Cabanlit, Jeff Bennett, Paul Ashwood, David Amaral, Judy Van de Water.
10. Brain-Specific Autoantibodies in the Plasma of Subjects with Autistic Spectrum Disorder: Maricel Cabanlit, Sharifia Wills, Paula Goines, Paul Ashwood, Judy Van de Water.
11. Autoantibodies Against Glial Antigens in Paraneoplastic Neurological Diseases: M. Tschernatsch, O. Gross, N. Kneifel, I. Krasenbrink, T. Gerriets, M. Kaps, F. Blaes.
12. DNA Microarray in Search of New Drug Targets for Treatment of Myasthenia Gravis: Tali Feferman, Revital Aricha, Renuka Menon, Miriam C. Souroujon, Sonia Berrih-Aknin, Sara Fuchs.
13. Cytokine Levels During Pregnancy Influence Immunological Profiles and Neurobehavioral Patterns of the Offspring: Nicholas M. Ponzio, Richard Servatius, Kevin Beck, Atara Marzouk, Tim Kreider.
14. Antipituitary Antibodies in Idiopathic Hyperprolactinaemic Patients: A. De Bellis, A. Colao, R. Pivonello, A. Savoia, C. Coronella, G. Tirelli, G. Lombardi, A. Bellastella, A. Bizzarro.
15. Hearing Loss as the Presenting Feature of Systemic Vaculitis: Merav Lidar, Eldar Carmel, Yona Kronenberg, Pnina Langevitz.
16. Autoimmunity in the Brain: The Pathogenesis Insight from Cell Biology: Katica Jovanova-Nesic, Yehuda Shoenfeld.
17. Impaired Expression of Peripheral Blood Apoptotic-Related Gene Transcripts in Acute Multiple Sclerosis Relapse: Anat Achiron, Anna Feldman, Mathilda Mandel, Michael Gurevich.
18. Autoimmunity in Complex-Regional Pain Syndrome: F. Blaes, M. Tschernatsch, M.E. Braeu, O. Matz, K. Schmitz, D. Nascimento, M. Kaps, F. Birklein.
19. Antibodies to the Lens and Cornea in Anti-DFS70 Positive Subjects: Nicola Bizzaro, Elio Tonutti, Daniela Visentini, Maria Grazia Alessio, Stefan Platzgummer, Gabriella Morozzi, Antonio Antico, Danilo Villalta, Sonia Piller-Roner, Enrico Vigevani.
20. Increased IL-18 Production by Dendritic Cells in Active Inflammatory Myopathies: Tucci Marco, Quatraro Cosima, Dammacco Franco, Silvestris Franco.
Part III: Autoimmunity and Cancer:.
21. Is The c-Cbl Proto-Oncogene Involved in Chronic Lymphocytic Leukemia?: Amani Mankaï, Jean-Richard Eveillard, Virginie Buhé, Karine Le Ster, Séverine Loisel, Ibtissem Ghedira, Pierre Youinou, Christian Berthou, Anne Bordron.
22. Autoantibodies in Patients with Monoclonal Gammopathies: Guglielmo Carlizzi, Maria Vera Ciarla, Andrea Di Luzio, Raffaekka Labriola, Daniele Frattolillo, Patrik Spiridigliozzi, Cesare Masala, Roberto Strom.
23. Significance of Endogenous Augmentation of Antiganglioside IgM in Cancer Patients: Potential Tool for Early Detection and Management of Cancer Therapy: Mepur H. Ravindranath, Sakunthala Muthugounder, Maghasi R. Hannah, Donald L. Morton.
24. Cancer Immunomics: From Serological Proteome Analysis to Multiple Affinity Protein Profiling: Julie Hardouin, Jean-Paul Lasserre, Loïk Sylvius, Raymonde Joubert-Caron, Michel Caron.
25. Paraneoplastic Pemphigus Associated with Castleman's Disease. Usefulness of the Laboratory of Autoimmunity in the Diagnosis of This Disease. By I. Alarcón-Torres, J. Bastida-Iñarrea, M.J. Rodríguez-Salido, J. Gómez-Duaso, I. Rua-Figueroa, G.D. García-Aguilar, R. Martín-Alfaro.
26. Interleukin-2 Mastering Regulation in Cancer and Autoimmunity: Enrique Montero, Livan Alonso, Rolando Perez, Agustin Lage.
Part IV: Autoantibodies and the GI Tract:.
27. Type II Cryoglobulinemia Is Not Associated With Hepatits C Infection: The Dutch Experience: J.W. Cohen Tervaert, P. van Paassen, J. Damoiseaux.
28. The Clinical Significance of IgA Anti-Mitochondrial Antibodies in Sera and Saliva in Primary Biliary Cirrhosis: Atsushi Tanaka, Saeko Nezu, Satoko Uegaki, Shuhei Okuyama, Naohiro Kawamura, Mitsuhiko Aiso, M. Eric Gershwin, Shin-ichi Takahashi, Carlo Selmi, Hajime Takikawa.
29. Altered Pattern of Connectivity in Chagas Disease: N. Pavón-Martinez, F. Masso-Rojas, R. López-Alcántara, V.M. Monteón.
30. Decrease in Binding for the Neuropeptide VIP in Response to Marked Inflammation of the Mucosa in Ulcerative Colitis: Maria Jönsson, Örjan Norrgård, Magnus Hansson, Sture Forsgren.
31. Are Neurotrophins Important in Ulcerative Colitis?: Malin Johansson, Örjan Norrgård, Sture Forsgren.
32. Systemic Multifocal Epithelial Inflammations Associated with PBC-like Bile Duct Damage in Chronic Colitis-Harboring TCRa-/-xAIM-/- Mice: Does Lipoteichoic Acid Affect the Pathogenesis of Epithelial Inflammation Followed by Fibrosis?: Ikuko Haruta, Etsuko Hashimotom Makio Kobayashi, Keiko Shiratori.
33. HCV-Related Immunocytoma and Type II Mixed Cryoglobulinemia Associated Autoantigens: Maria Paola Simula, Laura Caggiari, Annunziata Gloghini, Valli De Re.
34. Gluten Ataxia: Passive Transfer in a Mouse Model: Sabrina Boscolo, Alessandra Sarich, Andrea Lorenzon, Monica Passoni, Veronica Rui, Marco Stebel, Daniele Sblattero, Roberto Marzari, Marios Hadjivassiliou, Enrico Tongiorgi.
35. Extended Hypothesis: Aluminum is a Potential Environment Factor for Crohn's Disease Induction: Aaron Lerner.
36. Humoral and Cellular Monitoring to Predict the Development of Infection in Crohn's Disease Patients Beginning Treatment with Infliximab: J. Carbone, V. Gonzalez-Lara, E. Sarmiento, C. Chean, J.L. Perez, I. Marin, J.J. Rodríguez-Molina, J. Gil, E. Fernández-Cruz.
Part V: Autoantibodies and Diabetes:.
37. Spectrum of Autoantibodies in Tunisian Adult Type I Diabetes Mellitus: Lilia Laadhar, Mondher Zitouni, Maryam Kallel Sellami, Radhia Bouguerra, Hatem Chaabouni, Sondes Makni.
38. Circulating CD4+CD25high Regulatory T Cells and Natural Killer T Cells in Children With Newly Diagnosed Type I Diabetes or With Diabetes Associated Autoantibodies: Viveka Öling, Jane Marttila, Mikael Knip, Olli Simell, Jorma Ilonen.
39. CD40 is Required for Development of Islet Inflammation in the RIP-CD154 Transgenic Mouse Model of Type I Diabetes: Clause Haase, Helle Markholst.
Part VI: Autoantibodies and the Lung:.
40. Modulation of Acute and Chronic Inflammation of the Lung by GITR and its Ligand: Giuseppe Nocentini, Salvatore Cuzzocrea, Rodolfo Bianchini, Emanuela Mazzon, Carlo Riccardi.
41. Serum Eosinophil Catonic Protein (ECP): A Marker of Disease Activity in Churg-Strauss Syndrome: Philippe Guilpain, Jean-Francois Auclair, Mathiew C. Tamby, Amélie Servettaz, Alfred Mahr, Bernard Weill, Loïc Guillevin, Luc Mouthon.
42. Spectrum of Wegener Granulomatosis in Mexican Population: Luis Felipe Flores-Suárez, Antonio R. Villa.
43. Measuring Outcomes in PAH: The Gap Between the Measures Which are Used and Their Validity: Daniel E. Furst.
44. Autosensitization as a Pathomechanism in Asthma: Holger Garn, Irene Mittermann, Rudi Valenta, Harald Renz.
Part VII: The Heart and Autoimmunity:.
45. Rheumatic Fever: From Innate to Acquired Immune Response: L. Guilherme, J. Kalil.
46. Role of Trypanosoma cruzi auto-reactive T Cells in the Generation of Cardiac Pathology: Núria Gironès, Eugenio Carrasco-Marin, Henar Cuervo, Néstor Guerrero, Cristina Sanoja, John Sparrow, Reyes Flores-Herráez, Lorena Fernández-Prieto, Isabel Chico-Calero, Hugo Salgado, Javier Carrión, Manuel Fresno