Autoimmunity, Part D: Autoimmune Disease, Annus Mirabilis, Volume 1108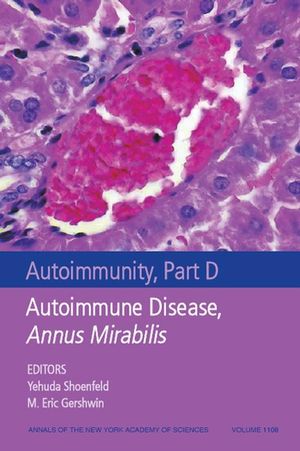 Autoimmunity, Part D: Autoimmune Disease, Annus Mirabilis, Volume 1108
ISBN: 978-1-573-31708-5 August 2007 Wiley-Blackwell 628 Pages
Description
The incidence of autoimmune diseases is increasing worldwide, and the search for better management of these diseases and even for a cure is being pursued by scientists from many disciplines. Tools from the areas of genetics, neuroscience, cell biology, virology, and infectious disease are being applied to the problem and are yielding useful results.
This is the fourth and final volume of a series on autoimmunity, and findings related to particular clinical manifestations are presented, particularly systemic lupus erythematosus, scleroderma, rheumatoid arthritis, Sjogren's syndrome, antiphospholipid antibodies, and infections and autoantibodies.
Part A presents new principles in autoimmunity and new diagnostic tools; Part B focuses on genetics and advances in treatment; and Part C begins the focus on the clinical venue.
NOTE: Annals volumes are available for sale as individual books or as a journal. For information on institutional journal subscriptions, please visit www.blackwellpublishing.com/nyas.
ACADEMY MEMBERS: Please contact the New York Academy of Sciences directly to place your order (www.nyas.org). Members of the New York Academy of Science receive full-text access to the Annals online and discounts on print volumes. Please visit http://www.nyas.org/MemberCenter/Join.aspx for more information about becoming a member
Table of contents
Foreword: Yehuda Shoenfeld and M. Eric Gershwin.
Part I: Systemic Lupus Erythematosus:.
1. Glomerular Targets for Autoantibodies in Lupus Nephritis – An Apoptotic Origin: Svetlana N. Zykova, Natalya E. Seredkina, Ole Petter Rekvig.
2. Type I IFN Inhibition of Inflammatory Th Cell Responses in SLE: Alyson J. Mangini, Robert Lafyatis, Jean Maguire van Seventer.
3. Vascular Elasticity of Systemic Lupus Erythematosis Patients is Associated with Steroids and Hydroxychloroquine Treatment: Amir Tanay, Eyal Leibovitz, Angela Frayman, Rueven Zimlichman, Dov Gavish.
4. Sun-Induced Life-Threatening Lupus Nephritis: Enno Schmidt, Hans-Peter Tony, Eva-Bettina Bröcker, Christian Kneitz.
5. Blood Concentrations of Hydroxychloroquine and its Desethyl Derivative Correlate Negatively with the Percentage of CD45RO+ Cells Among CD4+ Lymphocytes in Hydroxychloroquine Treated Lupus Patients: Laurent Sailler, Bénédicte Puissant, Pascal Méliani, Jean Olivier Castex, Sylvie Saivin, D. Adoue, B. Fournie, Philippe Arlet, Jean-Louis Montastruc, Maryse Laoetyre-Mestre, Jaques Pourrat, Antoine Blancher.
6. Advances in Lupus and Sjögren's Syndrome. A Tribute to Josep Font: Manuel Ramos-Casals, Munther A. Khamashta.
7. Regulatory T Cells and Systemic Lupus Erythematosus: Véronique Parietti, Hélène Chifflot, Sylviane Muller, Fanny Monneaux.
8. Occurrence of Malignancies in Hungarian Patients with Systemic Lupus Erythematosus. Results from a Single Centre: Tünde Tarr, Balázs Gyorfy, Éva Szekanecz, Harjit Pal Bhattoa, Margit Zeher, Gyula Szegedi, Emese Kiss.
9. Reduced Paraoxonase1 Activity is a Risk for Atherosclerosis in Patients with Systemic Lupus Erythematosus: Emese Kiss, Ikdikó Seres, Tünde Tarr, Zsolt Kocsis, Gyula Szegedi, György Paragh.
10. A Potential Trigger of Nephritogenic Anti-DNA Antibodies in Lupus Nephritis: Y. Hirabayashi, Y. Oka, M. Tada, R. Takahashi, T. Ishii.
11. Annexin A5 as a Novel Player in Prevention of Atherithrombosis in SLE and in the General Population: Anna Cederholm, Johan Frostegärd.
12. A Central Role of Nucleosomes in Lupus Nephritis: Kristen A. Fenton, Ole Petter Rekvig.
13. Systemic Lupus Erythematosus: The Face of Asia: Pao-Hsii Feng.
14. Intima-Media Thickness (IMT): A Marker of Accelerated Atherosclerosis in Women with SLE: Barbara Maria Colombo, Giuseppe Murdaca, Matteo Caiti, Guido Rodriguez, Lidia Grassia, Edorado Rossi, Francesco Indiveri, Francesco Puppo.
15. DNA Methylation and Systemic Lupus Erythematosus: Eva Balada, Josep Ordi-Ros, Miguel Vilardell-Tarrés.
16. Antibodies Towards High Density Lipoprotein Components Inhibit Paraoxonase Activity in Patient with Systemic Lupus Erythematosus: J. R. Batuca, P.R.J. Ames, D.A. Issenberg, Alves J. Delgado.
17. Induction of Endothelial Cell Apoptosis by IgG Antibodies from SLE Patients with Nephropathy: A Potential Role for Anti-endothelial-cell-antibodies (AECA): P. van Paassen, A, Duijvestijn, L. Debrus-Palmans, J. Damoiseaux, M. Vroomen, J.W. Cohen Tervaert.
18. Prolactine Effect on Lymphocytes Activation From Systemic Lupus Erythematosus Patients: Chavez-Rueda Karina, Legorreta-Haquet Ma. Victoria, Cervera-Castillo Hernando, Sánchez Lourdes, Jara Luis Javier, Zenteno Edgar, Chavez-Sanchez Luis, Blanco-Favela Francisco.
19. Drug-Induced Lupus: Andrea T. Borchers, Carl L. Keen, M. Eric Gershwin.
and Complement Receptors20. Altered Expression of Fc on B Cells in Systemic Lupus Erythematosus: Péter Gergely Jr., Andrea Isaák, Zsuzsanna Szekeres, József Prechl, Anna Erdei, Zsolt B. Nagy, János Gergely, Gyula Poór.
21. Pediatric Systemic Lupus Erythematosus with C1q Deficiency: Maryam Kallel Sellami, Lilia Baili Klila, Yousr Zerzeri, Lillia Laadhar, Jaques Blouin, Mohamed Slim Abdelmoula, Mondher Aitoun, Véronique Fremeaux-Bacchi, Marie France Ben Dridi, Sondes Makni.
22. Hereditary Complement Deficiency and Lupus: Report f 4 Tunisian Cases: Maryam Kallel Sellami, Lilia Baili Klila, Yousr Zerzeri, Lillia Laadhar, Jaques Blouin, Rim Abdelmalek, Véronique Fremeaux-Bacchi, Mondher Zitouni, Sondes Makni.
23. Highly Specific Novel Method for Isolation and Purification of Lupus Anti-DNA Antibody Via Oligo- (DT) Magnetic Beads: Mirjana Pavlovic, Ram Chen, Anna M. Kats, Michelle F. Cavallo, Seth Saccocio, Patricia Keating, James X. Hartmann.
24. Proactin Levels are Associated with Lupus Activity, Lupus Antcoagulant and Poor Outcome in Pregnancy: Luis J. Jara, Heidi Pacheco-Reyes, Gabriela Medina, Ulises Angeles, Polita Cruz-Cruz, Miguel A. Saavedra.
25. Autoantibodies Against Protective Molecules –C1q, C-reactive Protein (CRP), Serum Amyloid P (SAP), Mannose-binding Lectin (MBL), and Apolipoprotein A1 (Apo A1). Prevalence in Systemic Lupus Erythematosus: Yehuda Shoenfeld, Martine-Szyper-Kravitz, Tortsen Witte, Andrea Doria, Akito Tsutsumi, Abe Tatsuya, Jean-Michel Dayer, Pascale Roux-Lombard, Lionel Fontao, Cees G.M. Kallenberg, Marc Bijl, Torsten Mattias, Abigail Fraser, Gisele Zandman-Goddard, Miri Blank, Boris Gilburd, Pier Luigi Meroni.
Part II: Scleroderma:.
26. Unstabilized DNA Breaks in Lymphocytes of Patients With Different Subsets of Systemic Sclerosis: Franco Majone, Franco Cozzi, Marta Tonello, Silvia Olivieri, Anna Montaldi, Maria Favari, Serena Visentin, Roberto Luisetto, Amelia Ruffatti.
27. Scleroderna Renal Crisis, Still a Life Threatening Complication:Luis Teixeira, Alfred Mahr, Alice Berezné, Laure-Hélène Noël, Loïc Guillevin, Luc Mouthon.
28. Early Atherosclerosis and Autoantibodies to Heat-Shock Proteins and Oxidized LDL in Systemic Sclerosis: Yaniv Sherar, Marco Matucci Cerinic, Francesca Bartoli, Jelena Blagojevic, Maria Letizia Conforti, Boris Gliburd, Michael Ehrenfeld, Yehuda Shoenfeld.
29. Systemic Sclerosis Associated Myopathy: Brigitte Ranque, Francois-Jérome Authier, Alice Berenze, Loïc Guillevin, Luc Mouthon.
30. Flow Mediated Vasodilation and Carotid Intima-Media Thickness in Systemic Sclerosis: Francesca Bartoli, Jelena Blagojevic, Marzia Bacci, Ginevra Fiori, Alessio Tempestini, MariaLetizia Conforti, Serena Guiducci, Irene Miniati, Mauro Di Chicco, Angela Del Rosso, Federico Perfetto, Sergio Castellani, Alberto Pignone, Marco Matucci Cerinic.
31. Exercise Doppler Echcardiography Identifies Pre-Clinic Asymptomatic Pulmonary Hypertension in Systemic Sclerosis: Alberto Pignone, Fabio Mori, Francesco Pieri, Andrea Oddo, Gianna Galeota, Ginevra Fiori, Angela Del Rosso, Federico Perfetto, Aureliano Becucci, Riccardo Livi, Alessio Tempestini, Chiara Benvenuti, Leonardo Gramigna, Roberto Fedi, Sergio Generini, Martina Minelli, Marina Cinelli, Serena Guiducci, Chiara Arcangeli, Maria Letizia Conforti, Pasquale Bernardo, Marco Matucci Cerinic.
32. Thyroid Dysfunction in Women with Systemic Sclerosis: Bianca Marasini, Pier Alda Ferrari, Nadia Solaro, Carlo Selmi.
Part III: Rheumatoid Arthritis:.
33. The Immunology of Rheumatoid Arthritis: Rossana Scrivo, Manuela Di Franco, Antonio Spadaro, Guido Valesini.
34. Citrullination by Peptidyl Arginine Deiminase in Rheumatoid Arthritis: Akari Suzuki, Ryo Yamada, Kazuhiko Yamamoto.
35. Regulation of Cytokine-Induced HIF-1a Expression in Rheumatoid Synovial Fibrolasts: Johanna Westra, Elisabeth Brouwer, Reinhard Bos, Narcek D. Posthumus, Berber Doornbos-van der Meer, Cees G.M. Kallenberg, Piet C. Limburg.
36. Accelerated Atherosclerosis in Rheumatoid Arthritis: Zoltán Szekanecz, György Kerekes, Henriett Dér, Zsuzsa Sándor, Zoltán Szabó, Anikó Végvári, Eniko Simkovics, Lilla Soós, Ágnes Szentpétery, Timea Besenyei, Gabriella Szucs, Sándor Szántó, Gyula Szegedi, Yehuda Shoenfeld, Pál Soltész.
37. Increased Production of the Soluble Tumor-Associated Antigens CA19-9, CA125 and CA15-3 in Rheumatoid Arthritis: Potential Adhesion Molecules in Synovial Inflammation?: Éva Szekanecz, Zsuzsa Sándor, Péter Antal-Szalmás,Lilla Soós, Gabriella Lakos, Timea Besenyei, Ágnes Szentpétery, Eniko Simkovics, János Szántó, Emese Kiss, Alisa E. Koch, Zoltán Szekanecz.
38. Precocious Atherosclerosis in Rheumatoid Arthritis: Role of Traditional and Disease-Related Cardiovascular Risk Factors: Roberto Gerli, Yaniv Sherar, Elena Bartoloni Bocci, Gaetano Vaudo, Sheila Moscatelli, Yehuda Shoenfeld.
39. A New Target for Autoantibodies in Patients with Rheumatoid Arthritis: Magali Robert-Pachot, Agnes Desbos, Annick Moreiera, Michel Becchi, Jacques Tebib, Michel Bonnin, Tarik Aitsiselmi, Jacques Bienvenu, Nicole Fabien.
40. Preclinical Impairment of Coronary Flow Reserve in Patients with Rheumatoid Arthritis: Fabiola Atzeni, Piercarlo Sarzi-Puttini, Giuseppe De Blasio, Luigi Delfino, Livio Tomasoni, Maurizio Turiel.
41. Cartilage Oligomeric Matrix Protein Level in Rheumatic Diseases: Potential Use as a Marker for Measuring Articular Cartilage Damage and/or the Therapeutic Efficacy of Treatments: G. Morozzi, M. Fabbroni, F. Bellisai, G. Pucci, M. Galeazzi.
42. Heat-Shock Protein 65 Autoantibodies Are Differently Associated with Early Atherosclerosis in Rheumatoid Arthritis and in Healthy Subjects: Yaniv Sherer, Roberto Gerli, Elena Bartoloni Bocci, Boris Gilburd, Gaetano Vaudo, Onelia Bistoni, Yehuda Shoenfeld.
Part IV: Sjogren's Syndrome:.
43. Antibodies Against Alpha-Fodrin are Associated with Sicca Syndrome in the General Population: Torsten Witte, Torsten Matthias, Janine Bierwirth, Reinhold E. Schmidt.
44. Autoantibodies from Sjögren's Syndrome Trigger Apoptosis in Salivary Gland Cell Line:Y. Margherita Sisto, Sabrina Lisi, Dario Lofrumento, Massimo D' Amore. Pasquale Scagliusi, Vincenzo Mitolo.
45. The Influence of Sex Steroids on Sjögren's Syndrome: Pauliina Porola, Mikael Laine, Liisa Virkki, Praseet Poduval, Yrjö Konttinen.
46. Sjögren's Syndrome – A Plethora of Clinical and Immunological Phenotypes with a Complex Genetic Background. By Roland Jonsson, Anne Isine Bolstad, Karl A. Brokstad, Johan G. Brun.
Part V: Antiphospholipid Antibodies:.
47. Catastrophic Antiphospholipid Syndrome: Lessons from the "Caps Registry" – A Tribute to the Late Josep Font:Richard Cervera, Silvia Bucciarelli, Gerard Espinosa, José A. Gómez-Puerta, Manuel Ramos-Casals, Yehuda Shoenfeld, Jean-Charles Piette, Ronald A. Asherson.
48. Antigenic Profile, Prevalence and Clinical Significance of Antiphospholipid Antibodies in Women Referred for Invitro Fertilization. By M. Sanmarco, N. Bardin, L. Camoin, A. Beziane, F. Dignat-George, M. Gamerre, G. Porcu.
49. Antiphospholipid Antibodies in Patients with Coronary Artery Disease: New Cardiac Risk Factors: Tom P. Greco, Ann Marie Conti-Kelly, Eiji Matsuura, Tom Greco Jr., Ken J. Dier, Gregory Svanas, Robin Doyle, Luis R. Lopez.
50. Subclinical Atherosclerosis in Primary Antiphospholipid Syndrome: Annamariea Margarita, Joana Batuca, Giovanna Scebba, Jose' Delgado Alves, Louis Lopez, Luigi Iannaccine, Eiji Matsuura, Paul R.J. Ames.
51. Cross-reactive Epitopes on b2-Glycoprotein-I and Saccharomyces Cerevisiae in Patients with the Antiphospholipid Syndrome: I. Krause, M. Blank, R. Cervera, J. Font, T. Matthias, S. Pfeiffer, I. Wies, A. Fraser, Yehuda Shoenfeld.
52. Atherogenic Antiphospholipid Antibodies in Antiphospholipid Syndrome: Kazuko Kobayashi, Luis R. Lopez, Eiji Matsuura.
53. A Novel Overlap Syndrome: Systemic Sclerosis Associated with Antiphospholipid Syndrome – A Case Series: Gisele Zandman-Goddard, Nurit Tweezer-Zaks, Tamar Shalev, Yair Levy, Michael Ehrenfeld, Pnina Langevitz.
54. Pregnancies Complicated with Antiphospholipid Syndrome: The Pathogenic Mechanism of Antiphospholipid Antibodies. A Review of the Literature: Nicoletta Di Simone, Pier Luigi Meroni, Marco D'Asta, Fiorella Di Nicuolo, Silvia D'Ippoloto, Maria Clara D'Alessio, Alessandro Caruso.
55. Peripheral Vascular Occlusions Leading to Gangrene and Amputations in Antiphospholipid Antibody Positive Patients: Ronald A. Asherson, Yehuda Shoenfeld.
56. Uterine Artery Velocity Waveforms as Predictors of Pregnancy Outcome in Patients with Antiphospholipid Syndrome (APS): A Review: Sara De Carolis, Angela Botta, Serafina Garofalo, Sergio Ferrazzani, Carmelinda Martino, Gabriella Fatigante, Leonardo Caforio, Alessandro Caruso.
57. In Vivo Effects of An Inhibitor of Nuclear Factor-Kappa (k) B On Thrombogenic Properties of Antiphospholipid Antibodies: Guadalupe Montiel Manzano, Zurina Romay-Penabad, Elizabeth Papalardo de Martinez, L.A. Meillon-Garcia, E. Garcia-Lattore, E. Reyes-Maldonado, Silvia S. Pierangeli.
58. C5a Receptor Deficient Mice Are Protected From Thrombophilia and Endothelial Cell Activation Induced By Some Antiphospholipid Antibodies: Zurina Romay-Penabad, Xiaowei Liu X, Guadalupe Montiel-Manzano, Elizabeth Papalardo de Martinez, Silvia S. Pierangeli.
Part VI: Infections and Autoantibodies:.
59. EBV and CMV in Autoimmune Diseases: Are They Truly Notorious? A Preliminary Report: O. Barzilai, Y. Sherer, D. Izhaky, Yehuda Shoenfeld.
60. Are Antiphospholipid Antibodies An Essential Requirement for an Effective Immune Response to Infections?: Philipp von Landenberg, Yvonne Döring, Susanne Modrow, Karl J. Lackner.
61. Autoantibodies in Non-Autoimmune Individuals During Infections: Tatiana Berlin, Gisele Zandman-Goddard, Miri Blank, Torsten Matthias, Sascha Pfeiffer, Ingrid Weis, Elias Toubi, Sham Singh, Ronald Asherson, Abigail Fraser, Boris Gilburd, Tal Sapir, Yair Levy, Janja Likac, Blaz Rozman, Tanja Kveder, Yehuda Shoenfeld.
62. Chronic Infections and Atherosclerosis: Kiyoshi Ayada, Kenji Yokota, Kazuko Kobayashi, Yehuda Shoenfeld, Eiji Matsuura, Keiji Oguma.
63. Chronic Idiopathic Granulomatous Mastitis: Uriel Katz, Yair Molad, Jacob Ablin, Debby Ben-David, Daphna Paran, Mordechai Gutman, Pnina Langevitz