Autoimmunity: Concepts and Diagnosis at the Cutting Edge, Volume 1050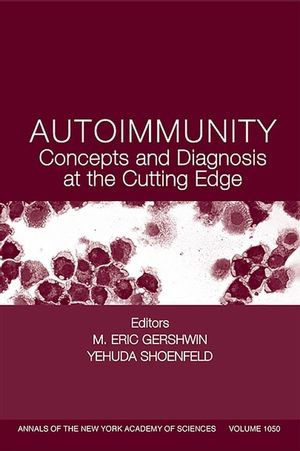 Autoimmunity: Concepts and Diagnosis at the Cutting Edge, Volume 1050
ISBN: 978-1-573-31517-3 June 2005 Wiley-Blackwell 432 Pages
Description
Only 40 years ago, the first textbook on autoimmunity was published, and at that time many scientists and clinicians were unconvinced that a process such as autoimmunity even existed. Today, the field is exploding with advances in our understanding of the major histocompatibility complexes, the production of monoclonal antibodies and the resulting identification of distinct cell phenotypes and demonstration of accessory and secondary molecules and messengers, including complement, cytokines, chemokines, and the cognate receptors, to name a few.


Both novel scientific (basic immunology) and clinical aspects of autoimmunity and autoimmune diseases are presented in this volume and in Volume 1051 (Autoimmune Disease and Treatment: Organ-Specific and Systemic Disorders) in papers written by the world's leading autoimmunologists.


Topics covered in this volumes include etiology and pathogenesis, genetics, mechanisms, tolerance, diagnostics, the role of hormones, infection, animal models, individual autoimmune diseases, therapy, and the art and science of predicting autoimmunity.


NOTE: Annals volumes are available for sale as individual books or as a journal. For information on institutional journal subscriptions, please visit www.blackwellpublishing.com/nyas.

ACADEMY MEMBERS: Please contact the New York Academy of Sciences directly to place your order (www.nyas.org). Members of the New York Academy of Science receive full-text access to the Annals online and discounts on print volumes. Please visit http://www.nyas.org/MemberCenter/Join.aspx for more information about becoming a member.
Foreword:
M Eric Gershwin and Yehuda Shoenfeld.
.
Part I: Principles of Autoimmunity:.
1. Posttranslational Modifications of Self-Antigens: Hester A. Doyle and Mark J. Mamula.
2. Expression and Reexpression of Recombination Activating Genes: Relevance to the Development of Autoimmune States: Sophie Hillion, Caroline Rochas, Pierre Youinou, and Christophe Jamin.
3. B Lymphocytes Are Required for Development and Treatment of Autoimmune Diseases: Pierre Youinou, Christophe Jamin, Jacques-Olivier Pers, Christian Berthou, Alain Saraux, and Yves Renaudineau.
4. BAFF Overexpression Is Associated with Autoantibody Production in Autoimmune Diseases: Jacques-Olivier Pers, Capucine Daridon, Valérie Devauchelle, Sandrine Jousse, Alain Saraux, Christophe Jamin, and Pierre Youinou.
5. Histo-Blood Group Antigens as Allo- and Autoantigens: Urs E. Nydegger, Hendrik Tevaearai, Pascal Berdat, Robert Rieben, Thierry Carrel, Paul Mohacsi, and Willy A. Flegel.
6. The Mechanism of Molecular Redundancy in Autoimmune Inflammation in the Context of CD44 Deficiency: David Naor, Shlomo Nedvetzki, Nathalie Assayag, Robin L. Thurmond, Jing-Feng Huang, and Eva A. Turley.
7. Functional Genomics in Early Autoimmunity: Evie Melanitou.
8. IgE and FcRI Regulation: Donald MacGlashan, Jr.
9. Interspecific Structural Differences in Nucleosome as Revealed by Heteroimmunization in Mice with Human Nucleosome: Y Kanai, M Watanabe, and T Kubota.
10. Differential Regulation of the IL-10 Gene in Th1 and Th2 T Cells: Kyu-Ho Kang and Sin-Hyeog Im.
11. Central Memory and Effector Memory Subsets of Human CD4+ and CD8+ T Cells Display Differential Sensitivity to TNF--Induced Apoptosis: Sudhir Gupta, Ruifen Bi, and Sastry Gollapudi.
12. Non-Antigen-Specific CD8+ T Suppressor Lymphocytes in Diseases Characterized by Chronic Immune Responses and Inflammation: G Filaci, M Rizzi, M Setti, D Fenoglio, M Fravega, M Basso, G Ansaldo, P Ceppa, G Borgonovo, G Murdaca, F Ferrera, A Picciotto, R Fiocca, G Torre, and F Indiveri.
13. Long-Lived Plasma Cells and Their Contribution to Autoimmunity: Bimba F. Hoyer, Rudolf A. Manz, andreas Radbruch, and Falk Hiepe.
14. What Makes an Autoantigen an Autoantigen?: Chih-Te Wu, M Eric Gershwin, and Paul A. Davis.
15. DNA Lesions and Repair in Immunoglobulin Class Switch Recombination and Somatic Hypermutation: Zhenming Xu, Zsolt Fulop, Yuan Zhong, Albert J. Evinger, Iii, Hong Zan, and Paolo Casali.
.
Part II: Diagnostic Considerations of Autoimmunity:.
16. Cross-Reactivity of IgM and IgG Anticardiolipin Antibodies with Oxidized-Low Density Lipoproteins: J Damoiseaux, A D Jeyasekharan, R Theunissen, and J W Cohen Tervaert.
17. The Anti-Alpha-Actinin Test Completes Anti-DNA Determination in Systemic Lupus Erythematosus: S Croquefer, Y Renaudineau, S Jousse, P Gueguen, S Ansart, A Saraux, and P Youinou.
18. The Relevance of Autoantigen Source and Cutoff Definition in Antichromatin (Nucleosome) Antibody Immunoassays: Danilo Villalta, Renato Tozzoli, Nicola Bizzaro, Elio Tonutti, Anna Ghirardello, and Andrea Doria.
19. Value of a New Automated Fluorescence Immunoassay (EliA) for PR3 and MPO-ANCA in Monitoring Disease Activity in ANCA-Associated Systemic Vasculitis: Renato Alberto Sinico, Antonella Radice, Caterina Corace, Lucafrancesco Di Toma, and Ettore Sabadini.
20. Anti-C1q Autoantibodies in Lupus Nephritis: Prevalence and Clinical Significance: Renato Alberto Sinico, Antonella Radice, Masami Ikehata, Gaia Giammarresi, Caterina Corace, Girolamo Arrigo, Bruna Bollini, and Maurizio Li Vecchi.
21. Anti-Endothelial Cell Antibodies Determination by Cyto-ELISA: A Comparative Study between Three Cell Types Used as Substrates: Nabil Sakly, Pejman Mirshahi, Jeannette Soria, Ibtissem Ghedira, and Massoud Mirshahi.
22. Prevalence of IgG Anti--Fodrin Antibodies in Sjögren's Syndrome: J L Ruiz-Tíscar, F J López-Longo, S Sánchez-Ramón, B Santamaría, R Urrea, L Carreño, A Estecha, D Vigil, E Fernández-Cruz, and M Rodríguez-Mahou.
23. Effective Use of Autoantibody Tests in the Diagnosis of Systemic Autoimmune Disease: Robert Lyons, Sonali Narain, Cody Nichols, Minoru Satoh, and Westley H. Reeves.
24. Human Antiganglioside Autoantibodies: Validation of ELISA: Mepur H. Ravindranath, Sakunthala Muthugounder, Thiruverkadu S. Saravanan, Naftali Presser, and Donald L. Morton.
25. A Deiminated Viral Peptide to Detect Antibodies in Rheumatoid Arthritis: Giuseppina Merlini, Consuelo Anzilotti, Daniele Chimenti, Cristina Tommasi, Stefano Bombardieri, and Paola Migliorini.
26. Identification of Thrombin Antibodies in Patients with Antiphospholipid Syndrome: Wolfgang Miesbach, Torsten Matthias, and Inge Scharrer.
27. Antibodies against Erythropoietin and Other Protein-Based Therapeutics: An Overview: Arno Kromminga and Huub Schellekens.
28. Diagnostic Value of Anti-F-Actin Antibodies in a French Multicenter Study: P Chretien-Leprince, E Ballot, C andre, N O Olsson, N Fabien, A Escande, F Oksman, S Dubuquoi, S Jego, J Goetz, A Chevailler, M Sanmarco, R L Humbel, and C Johanet.
29. Paraneoplastic Neurological Antibodies: A Laboratory Experience: Abid R. Karim, Richard G. Hughes, John B. Winer, Adrian C. Williams, and Arthur R. Bradwell.
30. Determination of ANA Specificity Using the UltraPlexTM Platform: Jodie Smith, David Onley, Caroline Garey, Stuart Crowther, Nicholas Cahir, Adam Johanson, Sianie Painter, Grant Harradence, Ricardo Davis, and Peter Swarbrick.
31. Association of Anti-Cyclic Citrullinated Peptide Antibodies, Anti-Citrullin Antibodies, and IgM and IgA Rheumatoid Factors with Serological Parameters of Disease Activity in Rheumatoid Arthritis: Alexander Greiner, Herbert Plischke, Herbert Kellner, and Rudolf Gruber.
32. Detection of TT Virus in Patients with Idiopathic Inflammatory Myopathies: Peter Gergely, Jr., Antal Blazsek, Katalin Dankó, andrea Ponyi, and Gyula Poór.
33. Clinical Utility of the Anti-CCP Assay: Experiences with 700 Patients: Ulrich Sauerland, Heidemarie Becker, Matthias Seidel, Heiko Schotte, Peter Willeke, Annette Schorat, Bernhard Schlüter, Wolfram Domschke, and Markus Gaubitz.
34. Prevalence of Anticentromere F Protein Autoantibodies in 347 Patients with Non-Hodgkin's Lymphoma: Celine Bencimon, Gilles Salles, Annick Moreira, Stephanie Guyomard, Bertrand Coiffier, Jacques Bienvenu, and Nicole Fabien.
35. Comparison of Different Test Systems for Simultaneous Autoantibody Detection in Connective Tissue Diseases: Petra Eissfeller, Michael Sticherling, Dietmar Scholz, Kirsten Hennig, Tanja Lüttich, Manfred Motz, and Arno Kromminga.
36. Evaluation of a Novel Line-Blot Immunoassay for the Detection of Antibodies to Extractable Nuclear Antigens: J Damoiseaux, K Boesten, J Giesen, J Austen, and J W Cohen Tervaert.
37. A Prospective Study of 1038 Pregnancies on the Predictive Value of Anti-Annexin V Antibodies for Fetal Loss: N Bizzaro, A Antico, M Musso, S Platzgummer, L Camogliano, R Tozzoli, and D Villalta.
38. Multiplexed Immunoassay for Detection of Rheumatoid Factors by FIDISTM Technology: I Abreu, P Laroche, A Bastos, V Issert, M Cruz, P Nero, J E Fonseca, J Branco, and J A Machado Caetano.
39. Antinuclear Antibodies in Domestic Animals: Laurel J. Gershwin.
40. The Interaction of Pemphigus Autoimmunoglobulins with Epidermal Cells: Activation of the Fas Apoptotic Pathway and the Use of Caspase Activity for Pathogenicity Tests of Pemphigus Patients: Marina Frusic-Zlotkin, Rochel Pergamentz, Beno Michel, Michael David, Daniel Mimouni, François Brégégère, and Yoram Milner.
41. Evaluation of the BioPlexTM 2200 ANA Screen: Analysis of 510 Healthy Subjects: Incidence of Natural/Predictive Autoantibodies: O Shovman, B Gilburd, O Barzilai, E Shinar, B Larida, G Zandman-Goddard, S R Binder, and Y Shoenfeld.
.
Part III: Infection and Autoimmunity:.
42. Autoimmunity and Coxsackievirus Infection in Primary Sjögren's Syndrome: Antigoni Triantafyllopoulou and Haralampos M. Moutsopoulos.
43. Human and Nonhuman Primate Lentiviral Infection and Autoimmunity: Nattawat Onlamoon, Kovit Pattanapanyasat, and Aftab A. Ansari.
44. Autoimmune Nature of Influenza Atherogenicity: Victor S. Gurevich, Vladimir M. Pleskov, and Margarita V. Levaya.
45. Bovine Spongiform Encephalopathy, Multiple Sclerosis, and Creutzfeldt-Jakob Disease Are Probably Autoimmune Diseases Evoked by Acinetobacter Bacteria: Alan Ebringer, Taha Rashid, and Clyde Wilson