Automation, Control and Complexity: An Integrated Approach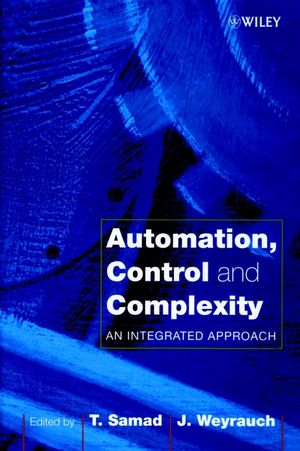 Automation, Control and Complexity: An Integrated Approach
ISBN: 978-0-471-81654-6
Jun 2000
336 pages
Description
Technological developments increasingly require the conflicting criteria of performance, cost, environmental impact and safety to be reconciled. The field of complexity management addresses this challenge through the integration of traditionally disparate disciplines such as control science, software engineering, artificial intelligence and biology.

Automation, Control and Complexity - An Integrated Approach is organised around four central themes:
* People and Automation, Sensing and Control, Software and Complex Systems and Complexity Management and Networks.

Features include:
* Authoritative discussions of complexity within a variety of engineering domains, including commercial aviation, process industries, communication networks and power systems.
* Expositions of current and future trends in a wide range of technical fields such as control engineering, computer science, sensor systems, maintenance and diagnostics.
* Practical examples of the harnessing of sophisticated technologies for the realisation of a new generation of automation and control solutions.

Based upon a unique wealth of practical experience, this book exposes complexity as an opportunity to be seized rather than a problem to be confronted and will be of value to all technologists, managers, students and researchers dealing with complex engineering systems.
Introduction: Complexity Management for Automation and Control (T. Samad).

AUTOMATION AND PEOPLE.

Advanced Technology in Complex Systems: Automation, People, Culture (E. Cochran & P. Bullemer).

The Human Factor in Complexity (C. Miller).

Perceived Complexity and Mental Models in Human-Computer Interaction (V. Riley).

SENSING AND CONTROL.

Active Multimodeling for Autonomous Systems (T. Samad).

Randomized Algorithms for Control and Optimization (R. Kulhav?).

Complexity Management via Biology (B. Morton & T. Samad).

Sensors in Control Systems (J. Zook, et al.).

SOFTWARE AND COMPLEX SYSTEMS.

Managing the Complexity of Software (J. Krueger).

Agents for Complex Control Systems (R. Sanz).

System Health Management for Complex Systems (G. Hadden, et al.).

COMPLEXITY MANAGEMENT AND NETWORKS.

Current and Future Developments in Air Traffic Control (S. Green & J. Jackson).

Complex Adaptive Systems: Concepts and Power Industry Applications (A. Wildberger).

National Infrastructure as Complex Interactive Networks (M. Amin).

Multiscale Networking, Robustness, and Rigor (J. Doyle).

Conclusions: Automation, Control, and Complexity (J. Weyrauch).

Current Affiliations and Addresses of Contributors.

Indexes.