Aviation Law for Pilots, 10th Edition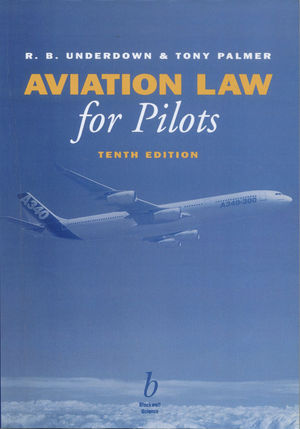 Aviation Law for Pilots, 10th Edition
ISBN: 978-0-632-05335-3
Dec 1999, Wiley-Blackwell
244 pages
Description
Aviation law, with its associated flight rules and procedures, has always been a difficult subject for students and this well established text has provided an authoritative guide to the subject.

Now, with the introduction of the Joint Airworthiness Requirements Flight Crew Licensing (JAR - FCL) examinations, it has been completely rewritten to cover the new syllabuses and to take account of the new FCL style of examinations.

The opportunity has been taken to simplify presentation of information, with more checklists to aid revision work. Tests are included which are cross referenced to the pages containing the relevant text.
Preface.
Abbreviations.
1 International and UK Air Law.
2 Airspace Divisions.
3 Visual Flight Rules and Instrument Flight Rules (VFR and IFR).
4 Altimeter Setting Procedures.
5 Aeronautical Information Service (AIS).
6 Aerodromes - General.
7 Flight Separation, Flight Planning, Carriage of Radio Equipment.
8 Flight at Aerodromes.
9 Flight in Other Types of Airspace.
10 Use of Radar in Air Traffic Services (ATS).
11 Airspace Restrictions, AIRPROX Procedures, Low Level Rules.
12 Meteorology.
13 Communications.
14 Search and Rescue.
15 Entry, Transit and Departure of Aircraft.
16 Aircraft Registration and Airworthiness (ICAO Annex 8).
17 Flight Personnel.
18 Operation of Aircraft (ICAO Annex 6 - Operation of Aircraft).
19 Documents and reports.
20 Rules of the Air, Aircraft Lights and Marshalling Signals.
21 Miscellaneous Information.
Test and Answers.
Index.
* Based on new JAR syllabus mandatory from 2000
* European wide syllabus means market for this text is now wider
* Text completely rewritten in simple checklist form to make it more user-friendly