Avoiding or Minimizing Construction Litigation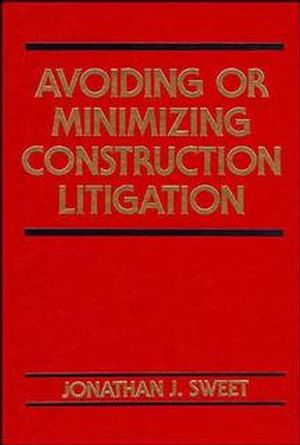 Avoiding or Minimizing Construction Litigation
ISBN: 978-0-471-54617-7 January 1993 472 Pages
Description
Enables non-attorneys in the construction industry to understand how the construction process and law interact in order to resolve disputes without going to court. Analyzes specific issues concerning contracts, subcontracting, tort claims, insurance and bonds. Recommends strategies for avoiding or terminating litigation if a claim arises. Includes actual case studies and a complete reference of relevant AIA, EJCDC and NSPE documents.
Table of contents
Outline of the American Legal System.

Alternatives to Traditional Litigation.

The Construction Process.

Contract as a Means of Regulating Duties and Behavior.

Subcontracting.

Tort Claims.

Insurance.

Bonds in Construction.

Government Entities and Construction Projects.

Avoiding or Terminating Construction Litigation.

Effective Construction Dispute Resolution: A Summary.

Appendices.

Tables.

Index.