BIM Content Development: Standards, Strategies, and Best Practices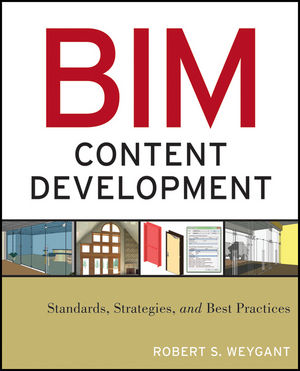 BIM Content Development: Standards, Strategies, and Best Practices
ISBN: 978-0-470-58357-9 April 2011 464 Pages
Description
A must-have reference to create content-rich BIM objects and models
A cutting-edge technology, Building Information Modeling (BIM) software allows AEC professionals to produce data-intensive 3D building models that far exceed those rendered with the 2D limitations of CAD, today's industry standard. Unlike CAD, however, no consensus has been reached among AEC industries for agreed upon guidelines directing BIM models. To fill this void, this book explores the different approaches used in designing a BIM model and incorporates them into one cohesive strategy that serves as a digital road map going forward.
BIM Content Development:
Details the various types of information (graphic and data) that Building Information Modeling (BIM) can gather about a building, such as its dimensions and material, its performance, its functionality, its interaction with other structures, and how often it must be maintained

Presents a vendor-neutral approach to thinking about, organizing, and managing data used to create a 3D building model

Covers the different methods for organizing content, such as CSI's MasterFormat®, Uniformat, OmniClass, and Industry Foundation Classes (IFC)
Providing the means and methods for effective content creation, BIM Content Development offers sound guidance for graphic standards and data management solutions to maximize the ability of professionals to operate on any BIM software platform—and shows how to strengthen the decision-making process to unleash powerful tools for modeling a building's informational profile.
Buy Both and Save 25%!
Original Price:$165.00
Purchased together:$123.75
save $41.25
Cannot be combined with any other offers.
Introduction.
Part I Getting Started.
Chapter 1. The Mental Transition to Building Information Modeling.
Chapter 2. Content Heirarchy.
Chapter 3. Understanding Parameters, Attributes and Constraints.
Chapter 4. Standards and Formats.
Chapter 5. Where to Begin.
Part II BIM Content Basics.
Chapter 6. Basic Modeling Considerations.
Chapter 7. Creation and Management of Materials.
Chapter 8. CAD Imports and Nonparametric Objects.
Chapter 9. BIM Data: The "I" in BIM.
Chapter 10. Quality Control.
Chapter 11. Knowledge Management.
Chapter 12. BIM Data and Specifications.
Part III BIM Content Types.
Chapter 13. Walls.
Chapter 14. Roofs.
Chapter 15. Floors and Ceilings.
Chapter 16. Windows and Skylights.
Chapter 17. Doors.
Chapter 18. Stairs and Railings.
Chapter 19. Curtain Walls and Storefronts.
Chapter 20. Fixtures and Fittings.
Chapter 21. Lighting.
Chapter 22. Mechanical, Electrical, and Plumbing Components.
Chapter 23. Site and Landscape Components.
Chapter 24. Detailing and Annotations.
Chapter 25. Constellations.
Appendix A. Omniclass Table 49 – Properties.
Index.