BIM Content Development: Standards, Strategies, and Best Practices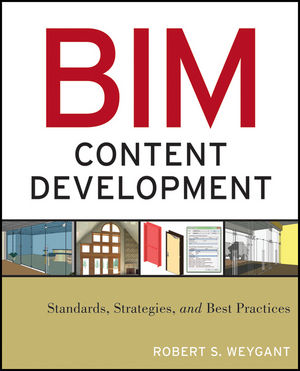 BIM Content Development: Standards, Strategies, and Best Practices
ISBN: 978-0-470-58357-9 April 2011 464 Pages
Description
From the cutting-edge of technology comes this book on Building Information Modeling (BIM), the newest technology in the AEC industry that allows the professional to create 3D models of a building that includes much more data than a traditional 2D CAD file. Developing BIM Content explains the type of information that can go into a BIM model from a vendor-neutral perspective and explores different methods for organizing content. For anyone interested in creating feature-rich BIM object and models that work on any platform, this is a must-have reference.
Table of contents
Introduction.
Part I Getting Started.
Chapter 1. The Mental Transition to Building Information Modeling.
Chapter 2. Content Heirarchy.
Chapter 3. Understanding Parameters, Attributes and Constraints.
Chapter 4. Standards and Formats.
Chapter 5. Where to Begin.
Part II BIM Content Basics.
Chapter 6. Basic Modeling Considerations.
Chapter 7. Creation and Management of Materials.
Chapter 8. CAD Imports and Nonparametric Objects.
Chapter 9. BIM Data: The "I" in BIM.
Chapter 10. Quality Control.
Chapter 11. Knowledge Management.
Chapter 12. BIM Data and Specifications.
Part III BIM Content Types.
Chapter 13. Walls.
Chapter 14. Roofs.
Chapter 15. Floors and Ceilings.
Chapter 16. Windows and Skylights.
Chapter 17. Doors.
Chapter 18. Stairs and Railings.
Chapter 19. Curtain Walls and Storefronts.
Chapter 20. Fixtures and Fittings.
Chapter 21. Lighting.
Chapter 22. Mechanical, Electrical, and Plumbing Components.
Chapter 23. Site and Landscape Components.
Chapter 24. Detailing and Annotations.
Chapter 25. Constellations.
Appendix A. Omniclass Table 49 – Properties.
Index.