Baby Names For Dummies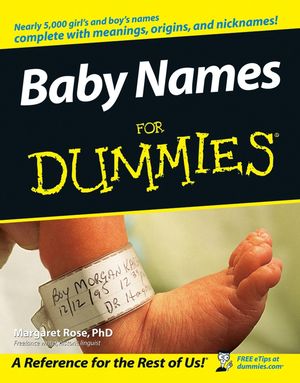 Baby Names For Dummies
ISBN: 978-1-118-06900-4
Apr 2011
380 pages
Description
The fun and easy way to name the new bundle of joy
Brimming with over 5,000 names, from traditional to unique, this is the perfect reference for parents-to-be looking for naming guidance. It features a an impressive assemblage of options for both boys and girls-from Biblical, medieval, and Shakespearean names to musical and international names-along with a list of today's most popular names and the favorite names of previous decades. Each entry contains variant spellings as well as the name's meaning, history, and derivations. Plus, fun sidebars offer examples of celebrities who chose unique names for their little ones and perfect suggestions for future political leaders, artists, and movie stars.
Introduction.
Part I: Getting Ready to Name Your Baby!
Chapter 1: What's in a Name?
Chapter 2: Considering the Factors in Picking Out a Name
Chapter 3: Putting the Name Together
Part II: Finding Names from Religion and Literature.
Chapter 4: Searching Scripture: Names from Judaism, Christianity, and Islam
Chapter 5: Living the Legends: Names from Myth and Saga.
Chapter 6: Writing Your Child's Story: Literary Names from Shakespeare and Others.
Part III: Naming through the Ages.
Chapter 7: Building Empires: Classical Names.
Chapter 8: Getting Medieval: The Rise of the "Old Standards".
Chapter 9: Naming Revolutions: From the Reformation to the Victorians.
Chapter 10: Coming Up to Date: Names of the 20th Century.
Chapter 11: Designing the Future: Created and Constructed Names.
Part IV: Describing the World: Names of Quality, Character, and Location.
Chapter 12: Re-using Rubies, Roses, and Robins: Names from the Natural World.
Chapter 13: Advertising Attributes.5
Chapter 14: Moving In: When Place Names and Natural Features Become First Names.
Chapter 15: Exploring the World of Names.
Part V: Seeking the Stars: Names from Popular Culture.
Chapter 16: Sitcoms, Soaps, and Serials: Names from TV Land.
Chapter 17: Tuning In to Musical Names.
Chapter 18: Going Hollywood: Names from Cinema and the Arts.
Chapter 19: Playing the Field: Names from the Sports World.
Part VI: The Part of Tens.
Chapter 20: Ten Practices to Avoid.9
Chapter 21: Ten Types of Resources to Consider.
General Index.
Baby Names Index.