Bailout Nation: How Greed and Easy Money Corrupted Wall Street and Shook the World Economy, with New Post-Crisis Update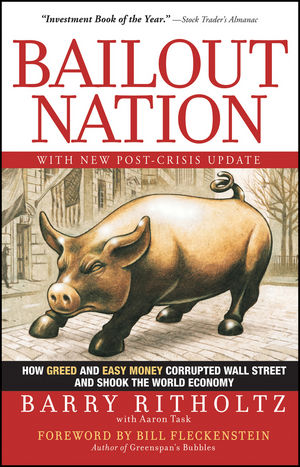 Bailout Nation: How Greed and Easy Money Corrupted Wall Street and Shook the World Economy, with New Post-Crisis Update
ISBN: 978-0-470-53598-1 June 2009 360 Pages
Description
An engaging look at what led to the financial turmoil we now find ourselves in
Bailout Nation offers one of the clearest looks at the financial lenders, regulators, and politicians responsible for the financial crisis of 2008. Written by Barry Ritholtz, one of today's most popular economic bloggers and a well-established industry pundit, this book skillfully explores how the United States evolved from a rugged independent nation to a soft Bailout Nation-where financial firms are allowed to self-regulate in good times, but are bailed out by taxpayers in bad times.
Entertaining and informative, this book clearly shows you how years of trying to control the economy with easy money has finally caught up with the federal government and how its practice of repeatedly rescuing Wall Street has come back to bite them.
The definitive book on the financial crisis of 2008
Names the culprits responsible for this tragedy-from financial regulators to politicians
Shows how each bailout throughout modern history has impacted what happened in the future
Examines why the consumer/taxpayer is left suffering in an economy of bubbles, bailouts, and possible inflation
Ritholtz operates a hugely popular blog, www.ritholtz.com/blog
Scathing, but fair, Bailout Nation is a voice of reason in these uncertain economic times.
Table of contents
Foreword.
Acknowledgments.
Introduction Bailout Nation.
PART I A BRIEF HISTORY OF BAILOUTS.
Chapter 1 A Brief History of Bailouts.
Chapter 2 The Creation of the Federal Reserve, and Its Role in Creating Our Bailout Nation.
Chapter 3 Pre-Bailout Nation (1860–1942).
Chapter 4 Industrial-Era Bailouts (1971–1995).
Intermezzo A Pattern Emerges.
PART II THE MODERN ERA OF BAILOUTS.
Chapter 5 Stock Market Bailouts (1987-1995).
Chapter 6 The Irrational Exuberance Era (1996-1999).
Chapter 7 The Tech Wreck (2000-2003).
Chapter 8 The Backwards, Rate-Driven Economy.
Intermezzo A Brief History of Finance and Credit.
Chapter 9 The Mad Scramble for Yield.
PART III MARKET FAILURE.
Chapter 10 The Machinery of Subprime.
Intermezzo A Memo Found in the Street: Uncle Sam the Enabler.
Chapter 11 Radical Deregulation, Nonfeasance.
Chapter 12 Strange Connections, Unintended Consequences.
Chapter 13 Moral Hazard: Why Bailouts Cause Future Problems.
PART IV BAILOUT NATION.
Chapter 14 2008: Suicide by Democracy.
Chapter 15 The Fall of Bear Stearns.
Chapter 16 Dot-Com Penis Envy.
Chapter 17 Year of the Bailout, Part I: The Notorious AIG.
Chapter 18 The Year of the Bailout, Part II: Too Big to Succeed?
Intermezzo Idiots Fiddle While Rome Burns.
PART V POST-BAILOUT NATION.
Chapter 19 Casting Blame.
Chapter 20 Misplaced Fault.
Chapter 21 The Virtues of Foreclosure.
Chapter 22 Casino Capitalism.
Postscript Advice to a New President.
Notes.
Index.