Baker's Manual, 5th Edition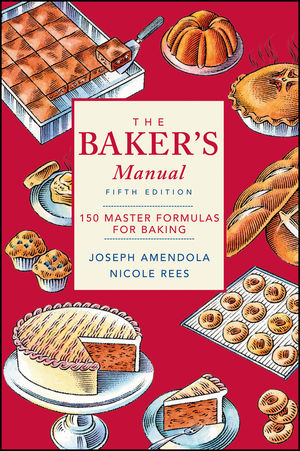 Baker's Manual, 5th Edition
ISBN: 978-0-471-44417-6 January 2003 336 Pages
Description
In addition to understanding basic pastry methods and techniques, pastry chefs must also master the basic - formulas, - or recipes, that underlie their craft (for example, puff pastry, which can be used to create everything from turnovers and napoleons to brie en croûte). This book brings together close to 200 baking and pastry formulas in a single, indispensable reference.
Table of contents
List of Recipes.

Acknowledgments.

Preface.

Chapter 1: How to Use this Book.

Chapter 2: Yeast Breads.

Chapter 3: Laminates(Layered Doughs).

Chapter 4: Cakes.

Chapter 5: Egg-Based Components.

Chapter 6: Pies, Tarts, and other Fruit Desserts.

Chapter 7: Cookies.

Chapter 8: Working with Sugar.

Chapter 9: Working with Chocolate.

Chapter 10: Frostings.

Chapter 11: Fillings and Components.

Chapter 12: Assembling and Decorating Cakes.

Dessert Glossary.

Appendix A: Metric Conversions and Other Helpful Information.

Appendix B: Weight-Volume Equivalents for Common Ingredients.

Appendix C: Volume of Baking Pans.

Appendix D: High-Altitude Baking.

Bibliography.

Index.
New To This Edition
New edition features 90 percent new content, presenting classic formulas with a contemporary interpretation.
200 all-new recipes, written in small- and large- quantities for the professional chef and the serious home cook.
Features
An introduction to the essential ingredients used in pastry kitchens every day.
Contains basic, foundation baking and pastry formulas.