Bakery Food Manufacture and Quality: Water Controland Effects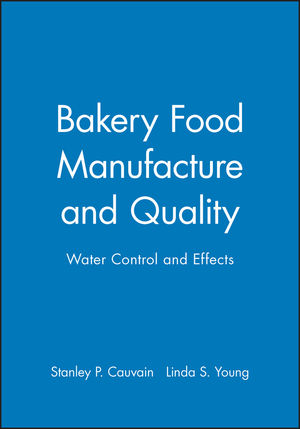 Bakery Food Manufacture and Quality: Water Controland Effects
ISBN: 978-0-470-99932-5 April 2008 Wiley-Blackwell 224 Pages
Description
Water is the major contributor to the eating and keeping qualities and structure of baked products. Its management and control during preparation, processing, baking, cooling and storage is essential for the optimisation of product quality. This highly practical book describes in detail the role and control of water in the formation of cake batters, bread, pastry and biscuit doughs, their subsequent processing and the baked product.
Preface.
1. Water And Its Roles In Baked Products.
2. The Role of Water in the Formation and Processing of Bread Doughs.
3. The Role of Water in the Formation and Processing of Batters, biscuit and Cookie Doughs, and Pastes.
4. The Contribution of Water During Processing, Baking, Cooling and Freezing.
5. Effects of Water on Product Textured Properties and Their Changes During Storage.
6. Water Activity.
7. Moisture Migration and Its Control in Composite Products.
8. Methods of Determining Moisture Content and Water Availability.
9. Strategies for Extending Bakery Product Shelf-Life.
Conclusions.
References.
Index.
* Highly practical - ideal for food technologists new to the industry, or as a reference source for experienced professionals
* Authors from the world-leading center-of-excellence for baking technology ensure modern, relevant and authoritative coverage
* Emphasis on shelf-life, organoleptic quality control, and determination of water activity and availability