Baking and Pastry: Mastering the Art and Craft, 2nd Edition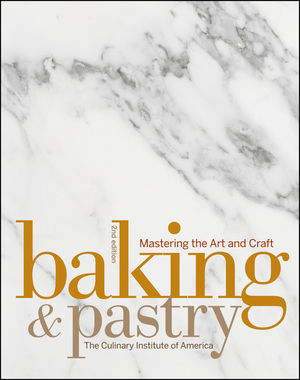 Baking and Pastry: Mastering the Art and Craft, 2nd Edition
ISBN: 978-1-118-69262-2
Mar 2013
944 pages
Product not available for purchase
Description
The most comprehensive reference on the market, this book covers the full range of baking and pastry arts. Foundational chapters cover ingredient and equipment identification, baking science and food safety, and baking formulas and percentages, as well as information on career opportunities for baking and pastry professionals. Subsequent chapters include basic, step-by-step procedures for the main baking techniques, followed by specific recipes. Completely revised and expanded, this is the most complete and up-to-date guide on baking and pastry, and is a must-have for every culinary student and professional.
PART ONE: THE PROFESSIONAL BAKER AND PASTRY CHEF.
Chapter 1: Career Opportunities for Baking and Pastry Professionals.
Chapter 2: Ingredient Identification.
Chapter 3: Equipment Identification.
Chapter 4: Advanced Baking Principles.
Chapter 5: Food Safety.
Chapter 6: Baking Formulas and Bakers Percentages.
PART TWO: YEAST-RAISED BREADS AND ROLLS.
Chapter 7: Beginner Yeast Breads and Rolls.
Chapter 8: Advanced Yeast Breads and Rolls.
PART THREE: BAKING BUILDING BLOCKS.
Chapter 9: Pastry Doughs and Batters.
Chapter 10: Quickbreads and Cakes.
Chapter 11: Cookies.
Chapter 12: Custards, Creams, Mousses, and Soufflés.
Chapter 13: Icings, Glazes, and Sauces.
Chapter 14: Frozen Desserts.
PART FOUR: ASSEMBLING AND FINISHING.
Chapter 15: Pies, Tarts, and Fruit Desserts.
Chapter 16: Filled and Assembled Cakes and Tortes.
Chapter 17: Breakfast Pastries.
Chapter 18: Individual Pastries.
Chapter 19: Savory Baking.
Chapter 20: Plated Desserts.
Chapter 21: Chocolates and Confections.
Chapter 22: Décor.
Chapter 23: Wedding and Specialty Cakes.
Appendix A.
Appendix B.
Appendix C.
Glossary.