Baking and Pastry: Mastering the Art and Craft, 3rd Edition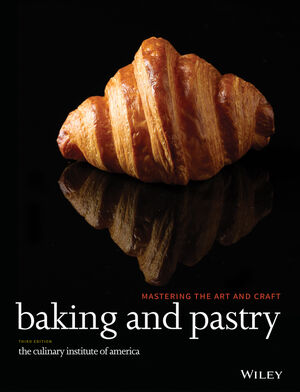 Baking and Pastry: Mastering the Art and Craft, 3rd Edition
ISBN: 978-0-470-92865-3
Feb 2015
1136 pages
Description
Baking and Pastry, Third Edition continues its reputation as being a must-have guide for all culinary and baking and pastry students and baking and pastry industry professionals. This new edition improves upon the last with the addition of hundreds of new recipes and photographs, and revised, up-to-date information on creating spectacular pastries, desserts, and breads. New content includes sustainability and seasonality, new trends in plated desserts and wedding and special occasion cakes, and more information on savory and breakfast pastries, volume production, and decor techniques.
Preface xviii
Part One The Professional Baker and Pastry Chef
1 Career Opportunities for Baking and Pastry Professionals 2
2 Ingredient Identification 12
3 Equipment Identification 38
4 Advanced Baking Principles 60
5 Food and Kitchen Safety 76
6 Baking Formulas and Bakers' Percentages 90
Part Two Yeast-Raised Breads and Rolls
7 Yeast-Raised Breads and Rolls 104
8 Advanced Yeast Breads and Rolls 152
Part Three Baking Building Blocks
9 Pastry Doughs and Batters 220
10 Quick Breads and Cakes 252
11 Cookies 328
12 Custards, Creams, Mousses, and Soufflés 392
13 Icings, Glazes, and Sauces 462
14 Frozen Desserts 554
Part Four Assembling and Finishing
15 Pies, Tarts, and Fruit Desserts 616
16 Filled and Assembled Cakes and Tortes 668
17 Breakfast Pastries 730
18 Individual Pastries 762
19 Savory Baking 818
20 Plated Desserts 858
21 Chocolates and Confections 902
22 Décor 976
23 Wedding And Specialty Cakes 1030
Appendix A Elemental Recipes 1064
Appendix B Décor Templates 1082
Appendix C Conversions, Equivalents, And Calculations 1084
Appendix D Readings And Resources 1086
Glossary 1090
Subject Index 1096
Recipe Index 1105
150 all-new recipes added with particular attention paid to savory baking as well as plated desserts and special occasion cakes which were revised to reflect current industry trends
50% all new photos added throughout
New information concerning issues of sustainability and seasonality and volume food service in the bakeshop
The first part of the book relays fundamental information about the profession, ingredients, and equipment and then moves to discuss the principles of understanding how baking formulas work.
The second and third parts introduce chapters that apply the information and knowledge from the previous ones, introducing foundation recipes, some of which can stand alone and others which serve as a component or base for a more complex item.
The final part the book uses the foundation of the previous chapters to create assembled and finished baking and pastry items.