Balanced Scorecard Step-by-Step: Maximizing Performance and Maintaining Results, 2nd Edition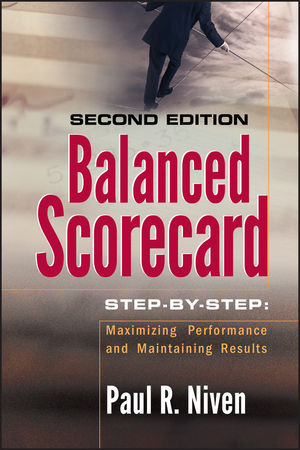 Balanced Scorecard Step-by-Step: Maximizing Performance and Maintaining Results, 2nd Edition
ISBN: 978-0-470-89373-9 June 2010 336 Pages
Description
PRAISE FOR Balanced Scorecard Step-By-Step: Maximizing Performance and Maintaining Results, Second Edition
"As a practitioner and thought leader, Paul Niven is superbly bridging the gulf between BSC theory and application through hands-on experiences and real-world case studies. The book provides a practical road map, step-by-step, to plan, execute, and sustain a winning scorecard campaign. Easy to read . . . tells a powerful story with lessons learned/best practices from global customer implementations. Must-read for anyone interested in BSC or grappling with how to create a strategically aligned organization."
—Vik Torpunuri, President and CEO, e2e Analytix
"In Balanced Scorecard Step-by-Step, Second Edition, Paul Niven provides an intuitive and incredibly effective blueprint for transitioning strategic ambition to execution. Paul's pragmatic approach provides leaders with a tool for managing a company's journey from strategic ideas to world-class performance. The Balanced Scorecard is a masterful tool for guiding companies through transformation, and I speak from personal experience when I say Paul's blueprint works! It is the most effective guide I have seen. Balanced Scorecard Step-by-Step will serve any leader well if their ambition is to efficiently engage their teams in achieving a set of strategic goals."
—Allan A. MacDonald, Vice President, Sales and Customer Solutions Bell Canada National Markets
"Paul Niven has done it again!!! With this book, he has further operationalized the enlightened Balanced Scorecard concept into a fully functional system that optimizes business execution and performance!"
—Barton Johnson, President, Financial Freedom Senior Funding Corporation, The Reverse Mortgage Specialist
Table of contents
Preface.
Acknowledgments.
Chapter 1. Performance Measurement and the Need for a balanced Scorecard.
Chapter 2. Getting Started.
Chapter 3. Mission, Values, Vision, and Strategy.
Chapter 4. Strategy Maps.
Chapter 5. Creating Performance Measures.
Chapter 6. Setting Targets and Prioritizing Initiatives.
Chapter 7. Cascading the Balanced Scorecard to Build Organizational Alignment.
Chapter 8. Using the Balanced Scorecard to Strategically Allocate resources.
Chapter 9. Additional Balanced Scorecard linkages: Compensation and Corporate Governance.
Chapter 10. Reporting Balanced Scorecard Results.
Chapter 11. Maintaining the Balanced Scorecard.
Chapter 12. Concluding Thoughts on Balanced Scorecard Success.
Index.