Balanced Scorecard Step-by-Step for Government and Nonprofit Agencies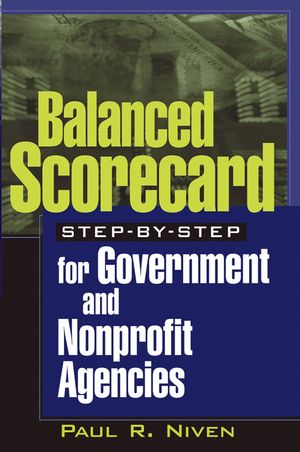 Balanced Scorecard Step-by-Step for Government and Nonprofit Agencies
ISBN: 978-0-471-47544-6 June 2003 320 Pages
Description
The Balanced Scorecard is the leading methodology for implementing performance management systems and improving efficiency. Focusing directly on the public and not-for-profit sectors, this book helps these organizations overcome the unique challenges they face when implementing a Balanced Scorecard.
Guides government and nonprofit organizations through the implementation of a performance management system using the Balanced Scorecard.
Authors bring a wealth of implementation knowledge and experience to this book, leading to hands-on, practical guidance and tips to that ensure success.
Identifies and tackles head-on the serious obstacles unique to the world of government and nonprofits in implementing the balanced scorecard methodology.
Includes action plans to walk the reader through specific implementation challenges.
Preface.
Acknowledgments.
PART ONE: INTRODUCTION TO PERFORMANCE MEASUREMENT AND THE BALANCED SCORECARD.
Chapter 1: Introduction to the Balanced Scorecard.
Chapter 2: Adapting the Balanced Scorecard to Fit the Public and Nonprofit Sectors.
PART TWO: POURING THE FOUNDATION FOR BALANCED SCORECARD SUCCESS.
Chapter 3: Before You Begin.
Chapter 4: Training and Communication Planning for Balanced Scorecard Success.
Chapter 5: Mission, Values, and Vision.
Chapter 6: Strategy: The Core of Every Balanced Scorecard.
Chapter 7: A Balanced Scorecard within Your Performance Management Framework.
PART THREE: DEVELOPING YOUR BALANCED SCORECARD.
Chapter 8: Developing Performance Objectives on a Strategy Map.
Chapter 9: Performance Measures, Targets, and Initiatives.
PART FOUR: MAXIMIZING THE EFFECTIVENESS OF THE BALANCED SCORECARD.
Chapter 10: Creating Alignment by Cascading the Balanced Scorecard.
Chapter 11: Linking Resource Allocation to the Balanced Scorecard.
Chapter 12: Reporting Results.
Chapter 13: The City of Charlotte: A Balanced Scorecard Success Story.
Chapter 14: Sustaining Balanced Scorecard Success.
Glossary of Key Balanced Scorecard and Performance Management Terms.
Index.
This results-focused and practical book provides you with:
Fundamentals of the Balanced Scorecard concept
Advice on how to alter the "geography" of the balanced scorecard to fit public and nonprofit agencies
Techniques for developing strategy maps and Balanced Scorecards throughout your organization
Tools and templates to link the Balanced Scorecard with key management processes