Balanced Scorecards and Operational Dashboards with Microsoft Excel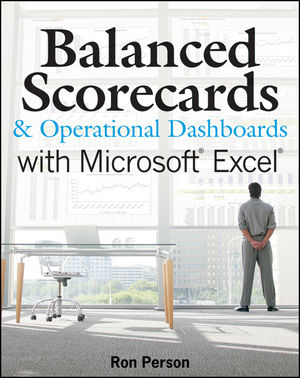 Balanced Scorecards and Operational Dashboards with Microsoft Excel
ISBN: 978-0-470-38681-1
Dec 2008
480 pages
Product not available for purchase
Description
Created in Excel, balanced scorecards enable you to monitor operations and tactics, while operational dashboards is a set of indicators regarding the state of a business metric or process—both features are in high demand for many large organizations. This book serves as the first guide to focus on combining the benefits of balanced scorecards, operational dashboards, performance managements, and data visualization and then implement them in Microsoft Excel.
Introduction.
Part I Strategic Performance with Balanced Scorecards.
Chapter 1 Accelerating Strategic Performance.
Chapter 2 Developing Your Strategic Foundation.
Chapter 3 Preparing to Build Your Balanced Scorecard.
Chapter 4 Step-by-Step to Building Your Strategy Map.
Chapter 5 Step-by-Step from Strategy to Action.
Chapter 6 Step-by-Step to Selecting Metrics and Setting Targets.
Chapter 7 Step-by-Step to Developing Your Implementation Plan.
Chapter 8 Step-by-Step to Roll-Out and Strategic Reviews.
Part II Operational Performance with Dashboards.
Chapter 9 Developing Executive and Operational Dashboards.
Chapter 10 Mapping Your Operational Processes.
Chapter 11 Identifying Critical Metrics and Key Performance Indicators.
Part III Building Maps, Scorecards and Dashboards.
Chapter 12 Creating Dashboards for Decision Making.
Chapter 13 Drawing Process and Strategy Maps.
Chapter 14 Using Microsoft Excel for Balanced Scorecards and Dashboards.
Chapter 15 Text-Based Dashboards.
Chapter 16 Custom Labels and Formatting.
Chapter 17 Working with Data That Changes Size.
Chapter 18 Working with Lists and Tables of Data.
Chapter 19 Creating Miniature Charts and Tables.
Chapter 20 Controlling Charts with Menus, Combo Boxes, and Buttons.
Chapter 21 Working with PivotTables.
Chapter 22 Smoothing Data and Forecasting Trends.
Chapter 23 Identifying Targets and Displaying Alerts.
Chapter 24 Building Powerful Decision Making Charts.
Chapter 25 Drilling to Detail.
Chapter 26 Using Excel Add-Ins for Extra Capabilities.
Chapter 27 Finishing Touches.
Chapter 28 Data Integration Methods.
Chapter 29 Publishing Balanced Scorecards and Dashboards.
Index.
"This title is a guide to how an organization can create competitive advantage by successfully executing strategy and accelerating performance."  (Accountancy Ireland, October 2010)