Balanced Sourcing: Cooperation and Competition in Supplier Relationships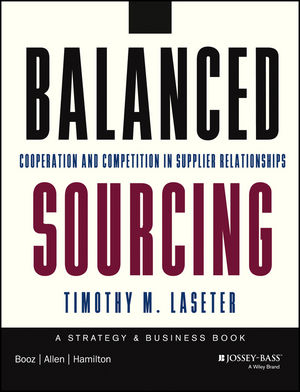 Balanced Sourcing: Cooperation and Competition in Supplier Relationships
ISBN: 978-0-787-94443-8
Sep 1998, Jossey-Bass
288 pages
Product not available for purchase
Description
There's too much work to be done. Your organization can't handle the load. That's when you begin to consider outsourcing some of your business functions. But how can you choose the right suppliers and ensure maximum results? In this book, Laseter--of the world-renowned consulting firm Booz*Allen & Hamilton--shows companies how to address that challenge through the dynamic pursuit of balanced sourcing.

"This will be a super book to provide to new purchasing people and to reinvigorate experienced purchasing professionals. It was great to see many of the concepts with which we have experimented logically explained. I wholeheartedly endorse it."
—Jean Mayer, executive director, manufacturing procurement operations, Ford Motor Company

Laseter and Booz-Allen coined the term "balanced sourcing" to describe a model for ensuring competitive pricing from suppliers while simultaneously nurturing cooperative relationships. Drawing upon Booz-Allen's experiences with leading companies, Balanced Sourcing lays out the six organizational capabilities that make up the firm's field-tested strategy. Detailed case studies of four prominent corporations-Honda of America, Cisco Systems, SUPERVALU, and Florida Power & Light-show you the broad applicability of this model for companies in industries from manufacturing to services to high-tech.

"Too many 'best practice' guides present a one-size-fits-all solution, such as copying the so-called Japanese model of sole sourcing. In fact, the best Japanese companies do not treat all suppliers as sole-sourced partners and you should not either. Balanced Sourcing is full of practical tools and models that will help you think through appropriate strategies for each of your suppliers."
—Dr. Jeffrey K. Liker, associate professor, industrial & operations engineering, and co-director, Japan Technology Management Program, University of Michigan

Get real-life lessons from around the world on:
Creating sourcing strategies
Building and sustaining supplier relationships
Leveraging supplier innovation...and much more!
Make the most of your outsourcing with this one-of-a-kind best practices guide!
Foreword
Preface
Part One: A New Model for Purchasing
1. The Emergence of Balanced Sourcing
2. Transforming the Organization
Part Two: Building the Capabilities
3. Modeling Total Cost
4. Creating Sourcing Strategies
5. Building Sustainable Relationships
6. Integrating the Supply Web
7. Leveraging Supplier Innovation
8. Evolving a Global Supply Base
Part Three: Balanced Sourcing Case Studies
9. Florida Power and Light Company
10. SUPERVALU
11. Honda of America
12. Cisco Systems
Notes
The Author
Index
Booz-Allen and Hamilton