Baldrige User's Guide: Organization, Diagnosis, Design, and Transformation (Updated for 2013 - 2014), 6th Edition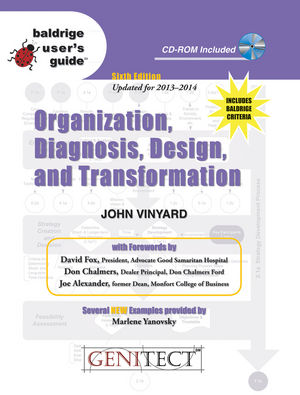 Baldrige User's Guide: Organization, Diagnosis, Design, and Transformation (Updated for 2013 - 2014), 6th Edition
ISBN: 978-1-118-72864-2
Apr 2013
654 pages
Product not available for purchase
Description
The Baldrige Users Guide helps the:
Beginning user, with a common sense description of each Area To Address
Intermediate user, with examples from every sector of what world-class organizations have achieved
Application writing user, with worksheets which can be completed to write an application
Assessment user, with the full Baldrige Criteria and a comprehensive questionnaire to assess your progress
Advanced user, with a 3-D view of the criteria, showing the sophisticated linkages and relationships
Leadership user, with Thoughts for Leaders on each Item
About the Author:
John Vinyard has worked with numerous clients in the United States and international firms in Europe, the Middle East, India, Asia and the Pacific Rim. He specializes in working with leadership teams to help transform their organizations. He has worked with twelve Baldrige recipients during their journey (and over 40 state and other award recipients), and has helped them use the Baldrige Model to significantly impact their competitiveness and bottom-line results.
John has over 40 years experience working with organizational improvement at all levels. He focuses on helping executives design and lead strategic change initiatives from the strategy down to results.? Focus areas include: strategic leadership, execution excellence, and organizational learning. John has consulted to help twelve organizations become Baldrige Award Recipients. He has experience in health care, commercial, nonprofit, education and government organizations including the following 12 Baldrige Recipients:
Advocate Good Samaritan Hospital (2010 Baldrige Recipient)
VA Cooperative Studies Program Clinical Research Pharmacy Coordinating Center (2009 Baldrige Recipient)
Poudre Valley Health System (2008 Baldrige Recipient)
Sharp Healthcare (2007 Baldrige Recipient)
Northern Mississippi Medical Center (2006 Baldrige Recipient)
PRO-TEC Coating Company (2007 Baldrige Recipient)
Monfort School of Business, University of Northern Colorado (2004 Baldrige Recipient)
Boeing Aerospace (2003 Baldrige Recipient)
Clarke American (2001 Baldrige Recipient)
Ritz Carlton Hotel Company (1999 Baldrige Recipient)
Boeing Airlift & Tanker (1998 Baldrige Recipient)
Corning Telecommunications Products Division (1995 Baldrige Recipient).
John has worked with over a dozen health care clients, some of which are hospitals, and other are large health care systems. Other clients have included the U.S. Army, the U.S. Air Force, Eaton Corporation, Lanier Worldwide, Cessna Aircraft, Shorts Brothers LLC, TATA Sons Ltd. (over 18 different divisions of Tata - India), InfoSys (India), Bekaert Corporation (Belgium – the first recipient of the European Foundation for Quality Management (EFQM) Award), and many others.
John is licensed by the Federal Aviation Administration (FAA) in Airframe and Powerplant Maintenance (A&P License).
He has held positions as:
Director, Engine Maintenance, United Airlines
VP Quality and Manufacturing Operations, GenCorp Polymer Products
Group VP, Manufacturing, Cadmus Communications
President and CEO of Bekaert Associates, Inc.
His first job was as a Quality Engineer for Pratt & Whitney Aircraft
Awards Include:
Distinguished Achievement Award - Los Angeles Council of Engineers and Scientists
Fellow (FIAE) - The Institute for the Advancement of Engineering
Distinguished Interprofessional Engineering Achievement Award - Society of Professional Engineers
Distinguished Productivity Engineering Achievement Award - California Council of Industrial and Business Associations
Forewords
Preface
Part 1: Design Concepts
Part 2: Organization Context
Organizational Environment (P.1a)
Organizational Relationships (P.1b)
Competitive Environment (P.2a)
Strategic Context (P.2b)
Performance Improvement System (P.2c)
Part 3: Organization Systems
Vision, Values, and Mission (1.1a)
Communication and Organizational Performance (1.1b)
Organizational Governance (1.2a)
Legal and Ethical Behavior (1.2b)
Societal Responsibilities and Support of Key Communities (1.2c)
Strategy Development Process (2.1a)
Strategic Objectives (2.1b)
Action Plan Development and Deployment (2.2a)
Performance Projection (2.2b)
Customer Listening (3.1a)
Determination of Customer Satisfaction and Engagement (3.1b)
Product Offerings and Customer Support (3.2a)
Building Customer Relationships (3.2b)
Performance Measurement (4.1a)
Performance Analysis and Review (4.1b)
Performance Improvement (4.1c)
Organizational Knowledge (4.2a)
Data, Information and Information Technology (4.2b)
Workforce Capability and Capacity (5.1a)
Workforce Climate (5.1b)
Workforce Performance (5.2a)
Assessment of Workforce Engagement (5.2b)
Workforce and Leader Development (5.2c)
Product and Process Design (6.1a)
Process Management (6.1b)
Cost Control (6.2a)
Supply Chain Management (6.2b)
Safety and Emergency Preparedness (6.2c)
Innovation Management (6.2d)
Part 4: Organization Scorecard
Customer-Focused Product and Process Results (7.1a)
Work Process Effectiveness Results (7.1b)
Supply-Chain Management Results (7.1c)
Customer-Focused Results (7.2a)
Workforce Results (7.3a)
Leadership and Governance Results (7.4a)
Strategy Implementation Results (7.4b)
Financial and Market Results (7.5a)
Part 5: The Path to Performance Excellence
Organization Diagnosis
Glossary
References