Bank Runs and Systemic Risk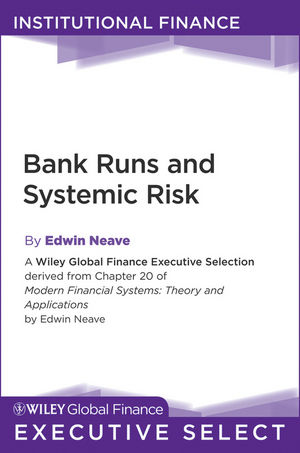 Bank Runs and Systemic Risk
ISBN: 978-0-470-94479-0
Dec 2010
29 pages
Description
This chapter examines performance and stability issues associated with bank operations. It first shows how bank portfolio structures pose a trade-off for both bank and system stability. It next considers policies for reducing the likelihood of speculative bank runs, examining the roles of lender of last resort, deposit insurance, and information production. Finally, the chapter considers how system risks differ from the risk of individual bank operations, and sketches policies for dealing with them.
Preface.
Part One: Theoretical Overview.
Chapter 1. Introduction.
Chapter 2. Financial System Functions.
Chapter 3. Financial System Governance.
Chapter 4. Financial System Organization and Change.
Part Two: Market Versus NonMarket Governance.
Chapter 5. Market Governance.
Chapter 6. Intermediation and Internal Governance.
Chapter 7. Terms Of Deals.
Part Three: Asset Prices And Market Relations.
Chapter 8. Pricing Stocks and Bonds.
Chapter 9. Pricing Derivatives By Arbitrage.
Chapter 10. Markets With Impediments To Arbitrage.
Part Four: Applications: Market Activity.
Chapter 11. Securities, Bond And Mortgage Markets.
Chapter 12. Markets For Trading Risks.
Chapter 13. Exchange Rates and Markets.
Part Five: Applications: Pooled Investments.
Chapter 14. Marketable Securities Portfolios.
Chapter 15. Nonmarketable Securities Portfolios.
Part Six: Applications: Intermediation.
Chapter 16. Principles of Intermediation.
Chapter 17. Management Practice: Domestic Institutions.
Chapter 18. International Banking and Banking Markets.
Part Seven: Industry Organization And Regulation.
Chapter 19. Banking Market Structure: Models and Empirical Research.
Chapter 20. Bank Runs And Systemic Risk.
Chapter 21. Financial Activity And Capital Formation.
Chapter 22. Financial Regulation.
References.
Index.