Barbarians of Wealth: Protecting Yourself from Today's Financial Attilas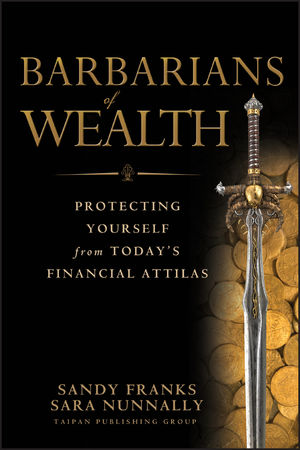 Barbarians of Wealth: Protecting Yourself from Today's Financial Attilas
ISBN: 978-0-470-76814-3 December 2010 448 Pages
Description
How the actions of a few in Europe destroyed the prosperity of the many (and how it's happening again now in America)
After the fall of the Roman Empire, vicious barbaric tribes including the Hunds lead by Atilla, the Mongols, Charlemagne and the Vikings invaded Europe, plundering property and destroying homes. But, they didn't just steal and destroy property in the villages; they also stole and destroyed any prosperity the villagers had previously enjoyed. What's worse is the barbarians of the Dark Ages did all of this not out of any deeply held religious or political belief, but, rather, for the oldest reason in the book – their own personal financial gain. Some things never change.
Barbarians of Wealth examines how the greedy, self-serving decisions of a select group of politicians and financial institutions negatively impacts the economy and, ultimately, destroys America's prosperity and the American way of life. Compelling and engaging, the book

Details how Goldman Sachs peddled mortgage backed securities up and down Wall Street while secretly betting against their demise
Discusses how Sanford Weill, founder of Citigroup spent $100 million lobbying for the repeal of the Glass-Steagall Act that prevented the merger of commercial and investment banks and got his way.
Examines Christopher Dodd, head of the U.S. Senate Banking Committee, has enriched himself while driving down the prosperity of his constituents
Offers up examples of other modern barbarians, including the Federal Reserve, Alan Greenspan, Hank Paulson, and Timothy Geithner.
Highlights greed driven tactics of Wall Street corporations including JP Morgan, Merrill Lynch, and Salomon Brothers.
Barbarians of Wealth is a timely must read for hard-working Americans concerned with their prosperity, as well as for those fascinated with the inner workings of Washington and Wall Street.
Foreword.
Acknowledgments.
Introduction.
Part One: Great Barbarians of History.
Chapter 1 Attila the Hun: The Scourge of God.
Chapter 2 Charlemagne: The Clandestine Barbarian.
Chapter 3 The Vikings: Savage Pirates, Savvy Traders.
Chapter 4 Genghis Khan: Mighty Warrior.
Part Two: Banks: The Barbarians of Money.
Chapter 5 The Brotherhood of Power.
Chapter 6 Race to the Bottom Line.
Chapter 7 Say Goodbye To Gold.
Chapter 8 The Gatekeepers.
Chapter 9 Money for Nothing.
Chapter 10 The Barbarians'Powerful Ally.
Part Three: The Barbarians of Wall Street.
Chapter 11 The Scourge of Wall Street.
Chapter 12 Epic Tool of Destruction.
Chapter 13 The Brotherhood of Banks.
Chapter 14 Wall Street Bloodlines.
Part Four: Political Barbarians.
Chapter 15 The Monied-Class Rulers and Demigods.
Chapter 16 Barbarians in the Lobby.
Chapter 17 Global Barbarians.
Part Five: Protection Strategies.
Chapter 18 Diversification: The Key to Wealth Protection.
Chapter 19 Precious Metals: Inflation Protection Strategies.
Chapter 20 Barbarians of Wealth, Castles of Currency.
Chapter 21 Arm Yourself with Ultra-Resource-Rich Countries.
Notes.
About the Authors.
Index.