Barley for Food and Health: Science, Technology, and Products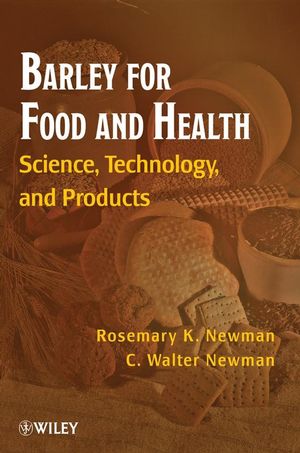 Barley for Food and Health: Science, Technology, and Products
ISBN: 978-0-470-10249-7 September 2008 246 Pages
Description
With coverage of chemistry, genetics, and molecular breeding, this book provides comprehensive and current information on barley types, composition, characteristics, processing techniques, and products. Its emphasis on the nutritional and health benefits of barley is especially timely with the FDA s 2005 confirmation of barley s cholesterol-lowering properties. This resource discusses barley s role in breads and related products, and reviews its health benefits, biotechnology, and breeding applications. This is the definitive resource for cereal chemists, food scientists, nutritionists, grain and food processors, and students in appropriate courses.
Buy Both and Save 25%!
Original Price:$435.95
Purchased together:$326.96
save $108.99
Cannot be combined with any other offers.
Preface.
1. Barley History: Relationship of Humans and Barley Through the Ages.
Introduction.
Domestication and Use of Barley for Food.
Summary.
2. Barley: Taxonomy, Morphology, and Anatomy.
Introduction.
Taxonomy.
Morphology and Anatomy.
Summary.
3. Barley Biotechnology: Breeding and Transgenics.
Introduction.
Improving the Barley Crop.
Barley Transgenics.
Summary.
4. Barley: Genetics and Nutrient Composition.
Introduction.
Genetics and Nutrient Composition.
Genetics and Physical Characteristics.
Summary.
5. Barley Processing: Methods and Product Composition.
Introduction.
Whole-Grain Processing.
Secondary Processing.
Separation Techniques.
Special and Miscellaneous Processes.
Summary.
6. Evaluation of Food Product Quality.
Introduction.
Objective Evaluation.
Sensory Evaluation.
Summary.
7. Barley Food Product Research and Development.
Introduction.
Health Claims for Barley.
Barley as a Functional Food.
Β-Glucan: The Challenge of Barley as Food.
Yeast Breads Made with Barley Flour.
Flatbreads Made with Barley Flour.
Chemically Leavened Baked Products Made with Barley Flour.
Pasta Made with Barley Flour.
Barley Brewers' and Distillers' Grains Used in Foods.
Pearled and Other Forms of Barley.
Malted Barley Products in Foods.
Miscellaneous Barley Products.
Summary.
8. Health Benefits of Barley Foods.
Introduction.
Barley and Heart Disease.
Glycemic Response to Carbohydrate Consumption.
Beneficial Effects of Resistant Starch in Barley on the Intestinal Tract.
Summary.
9. Current Status of Global Barley Production and Utilization.
Barley Production.
Barley Utilization.
Outlook for Barley Food.
10. Barley Foods: Selected Traditional Barley Recipes.
Introduction.
Middle East.
Eastern Europe.
East Africa: Ethiopia.
Scandinavia.
Northeastern Europe: Finland.
Great Britain.
Asia.
Summary.
Appendix 1. Glossary: Botany and Plants.
Appendix 2: Glossary: Food and Nutrition.
Appendix 3: Glossary: Barley Terms.
Appendix 4: Equivalent Weights and Measures.
Appendix 5: Sources of Barley and Barley Products.
Appendix 6: Barley Resource Organizations.
Index.