Barrages: Engineering, Design and Environmental Impacts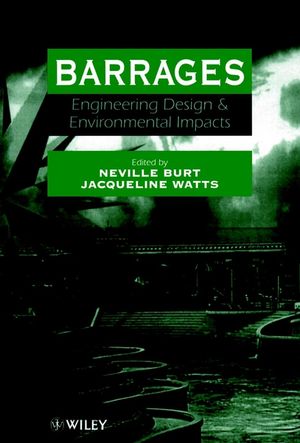 Barrages: Engineering, Design and Environmental Impacts
ISBN: 978-0-471-96857-3 September 1996 516 Pages
Description
The very word "barrages" is evocative. In the context of tidal waters it conjures up pictures of massive structures and environmental change. Barrages represent the engineer s success where King Canute failed to stop the tide coming in. They are hardly a new concept as man has for centuries tried to harness tidal power to drive his machinery, but a new breed of barrage is emerging, aimed at regenerating depressed urban areas. One of the primary aims of such schemes has been to drown "unsightly" mud flats. If you happen to be a wading bird used to enjoying the worms that live in intertidal mud flats you may not share that perspective. Indeed, many people today tend to side with the birds, fish and other ecological wonders and often find themselves in conflict with the promoters of a barrage scheme. How far are their fears justified? Are the negative impacts as bad as some people have predicted or even worse? How accurately can the impacts be predicted by scientific methods? Can the barrage be designed and its operation controlled to mitigate any negative effects as well as to optimise its primary objective? These issues are addressed in this book by authors drawing on their experience of research and practical experience.
Table of contents
Partial table of contents:

CONCEPTS AND ISSUES.

Tidal Barrages -
Learning From Experience (T. Burt & I. Cruickshank).

The Tidal Barriers for the Venice Lagoon (G. Cecconi).

ENVIRONMENTAL IMPLICATIONS.

The Severn Estuary: To Barrage or Not to Barrage?

(P. Williams & D. Worrall).

Managing the Impact of a Barrage on Outdoor Recreation (C.McGarvey).

CARDIFF BAY: HYDRAULIC REGIME.

Physical Modelling -
An Effective Tool for Assessment of Barrage Design and Performance(M. Littlewood, et al.).

CARDIFF BAY BARRAGE.

Cardiff Bay Barrage: Design (P. Hunter, et al.).

ECOLOGICAL ISSUES.

Impacts of Barrages on Saltmarshes and Other Wetlands (M.Hill).

WATER QUALITY.

The Impacts on Water Quality of the Venice Tidal Barriers (A.Bernstein & G. Cecconi).

COSTS, BENEFITS AND DECISIONS.The Tees Barrage -
A Success Story (D. Hall).

Protecting Wetlands in Norfolk -
The Benefits of a Bure Barrier (P. Barham, et al.).

TAWE BARRAGE.

Post Impoundment Fishery Investigations on the Tawe Barrage, SouthWales (D. Mee, et al.).

RIVER FLOWS AND CONTROL.

Environmental Impact Assessment of Barrages in Sindh Province,Parkistan (A. Rehan).

PLANNING AND CONTROL.

The Colne Barrier (S. Hayman & F. Burd).