Barrett's Esophagus: The 10th OESO World Congress Proceedings, Volume 1232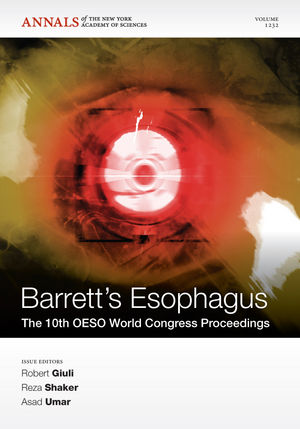 Barrett's Esophagus: The 10th OESO World Congress Proceedings, Volume 1232
ISBN: 978-1-573-31829-7 October 2011 Wiley-Blackwell 252 Pages
Description
Barrett's esophagus is a disorder in which the lining of the esophagus is damaged by stomach acid. People suffering from this disorder are at an increased risk for esophageal cancer. 
Barrett's Esophagus: The 10th OESO World Congress Proceedings
explores the lingering controversies around this condition as well as many advances in the pathogenesis, diagnosis, and treatment of this disease. The volume consists of concise commentaries from over 250 experts on all aspects of Barrett's esophagus, from incidence and etiology to treatment.
This volume stems from the 10th World Organization for Specialized Studies on Diseases of the Esophagus (OESO). The scientific scope of the OESO conferences is broad and includes advancement in all disorders of the upper gastrointestinal tract, including physiology and pathophysiology of gastrointestinal motility or mucosal disorders.

NOTE: Annals volumes are available for sale as individual books or as a journal. For information on institutional journal subscriptions, please visit http://ordering.onlinelibrary.wiley.com/subs.asp?ref=1749-6632&doi=10.1111/(ISSN)1749-6632.