Barrett's Esophagus and Esophageal Adenocarcinoma, 2nd Edition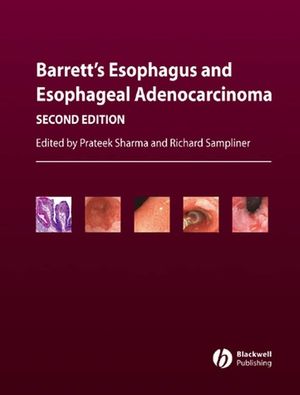 Barrett's Esophagus and Esophageal Adenocarcinoma, 2nd Edition
ISBN: 978-0-470-98751-3
Oct 2007, Wiley-Blackwell
312 pages
Description
The leading reference text entirely devoted to this increasingly significant condition
This text is dedicated to Barrett's esophagus and provides recent evidence and current approaches to patient management. It has been completely revised, updated and extended to include the latest research findings and describes how these affect day-to-day clinical practice.

It includes seven new chapters and even more color images than the last edition. Each chapter, written by the leading international experts in the field, provides clear, didactic guidance on diagnosis, treatment and management of this condition.

Barrett's Espohagus gives an extensive overview covering epidemiology, screening, pathology, gastroenterology and surgery. It looks at the precursor lesions leading to the development of Barrett's epithelium, the unique characteristics of Barrett's esophagus, and the consequences of malignant degeneration. All aspects of diagnosis, secondary prevention, multimodality, and medical and surgical treatment are clearly explained.

This is a complete guide on the latest thinking on diagnosis and treatment of Barrett's esophagus which can be referred to over and over again.
1 Definition and Diagnosis of Barrett's Esophagus.
Ajay Bansal and Prateek Sharma.
2 The Epidemiology and Prevalence of Barrett's Esophagus.
Alan J. Cameron.
3 Esophageal Adenocarcinoma—Epidemiology and Association with Barrett's Esophagus.
Jesper Lagergren.
4 Pathogenesis of Barrett's Esophagus.
Nicholas J. Clemons, Rebecca C. Fitzgerald, and Michael J. G. Farthing.
5 The Role of Acid and Bile in Barrett's Esophagus.
Joel E. Richter.
6 Esophageal Motility Abnormalities in Barrett's Esophagus.
John E. Pandolfino and Peter J. Kahrilas.
7 Mucosal Defense in Barrett's Esophagus.
Roy C. Orlando.
8 The Role of Helicobacter pylori in Barrett's Esophagus.
Peter Malfertheiner and Ulrich Peitz.
9 Molecular Biology of Barrett's Esophagus.
Linda A. Feagins and Rhonda F. Souza.
10 Histology of Barrett's Esophagus: Metaplasia and Dysplasia.
Joel E. Mendelin and John R. Goldblum.
11 Screening for Barrett's Esophagus: Targeting High Risk Patients.
Richard E. Sampliner.
12 Surveillance of Barrett's Esophagus.
Gary W. Falk.
13 The Cost-Effectiveness of Screening and Surveillance to Decrease Mortality from Esophageal Adenocarcinoma.
John M. Inadomi and Joel H. Rubenstein.
14 Chromoendoscopy in Barrett's Esophagus.
M. Brian Fennerty.
15 Surface Imaging in Barrett's Esophagus: The Role of High-Resolution Endoscopy, Magnifying Endoscopy, and Related Techniques.
Mohammed A. Kara, Prateek Sharma, and Jacques J.G. H. M. Bergman.
16 Emerging Techniques: Spectroscopy.
Stephan M. Wildi and Michael B. Wallace.
17 Emerging Techniques: Optical Coherence Tomography, Confocal Imaging, and Others.
Thomas D. Wang and Jacques Van Dam.
18 Medical Management of Barrett's Esophagus.
Ernst J. Kuipers.
19 Thermal Endoscopic Therapy of Barrett's Esophagus.
Jacques Deviere.
20 Ablation of Barrett's Esophagus with Laser and Photodynamic Therapy.
Kenneth K. Wang and Navtej S. Buttar.
21 Endoscopic Resection.
Oliver Pech, Andrea May, and Christian Ell.
22 Role of Endoscopic Ultrasound in Barrett's Esophagus and Esophageal.
Adenocarcinoma.
Ann Marie Joyce and Gregory G. Ginsberg.
23 Surgical Therapy of Barrett's Esophagus and Cancer.
Dave R. Lal and Brant K. Oelschlager.
24 Chemoprevention for Barrett's Esophagus.
Janusz Jankowski and Edyta Zagorowicz.
25 Management of High-Grade Intraepithelial Neoplasia in Barrett's Esophagus.
Jacques J. G. H. M. Bergman and Paul Fockens.
26 Esophageal and Gastroesophageal Junction Adenocarcinoma.
Stuart Jon Spechler.
27 The Options for Palliation of Esophageal Adenocarcinoma.
Shyam Varadarajulu and C. Mel Wilcox.
Index.
Color plate section
"The second edition of this book...is remarkably even better than the first. The editors, Drs. Sharma and Sampliner, have done their job admirably. What is evident is not only their expertise but that their hands-on approach dictates the tone of this book. The chapter subjects are all aptly chosen and cover the entire spectrum of Barrett's esophagus and esophageal adenocarcinoma from every possible angle. The editing is tight with little repetition of subject matter in chapters. In fact, in some chapters where one wonders why a specific topic was not covered, you can be sure it is covered in a related chapter. The authors chosen for each chapter are experts in their fields and all are exquisite writers and thinkers."
"It is rare that one sits down with a textbook and by the end feels that one has read a great series of short stories."
Gastroenterology, February 2007

"The book is a superb example of international co-operation, listing among its more than 40 contributors several leading world authorities […] who have given of their best, providing lucid, succinct and comprehensive chapters. In a word, this is the best guide to this difficult condition the reviewer has had the chance to examine in recent years. […] The Editors are to be warmly congratulated for producing this small masterpiece."
Digestive and Liver Disease, October 2006


"Tn 2001, Prateek Sharma and Richard Sampliner assembled a superb textbook (First Edition) on Barrett s esophagus and esophageal adenocarc I norma. Once again, outstanding authors were selected to write the individual chapters for the Second Edition. There are detailed discussions of every aspect of Barrett's esophagus and esophageal adenocarcinoma, including many controversial topics There are sevcral significant advances in the second edItion. There are now chapters on both screening and surveillance in patients at risk for Barrett's esophagus. There is an excellent chapter on clinical and epidemiologic features of esophageal adenocarcinoma. The sections on the role of endoscopy have been broadly expanded. There are several excellent, up-to-date discussions of high resolution endoscopy. chromoendoscopy, spectroscopy, optical coherence, endoscopic uLtrasonography, and endoscopic mucosal resection. The sections on ablative therapies ale brief and well done. However, there continue lobe new, available devices such as the HALO 360 system (for which there are no publications in the peer reviewed medical literature) that cannot be discussed. There is a new section on the hopes for chemoprevention of adenocarcinoma in patients with Barrett's esophagus. The surgical section has been expanded to include a mole detailed discussion of surgical techniques available to patients with esophageal adenoenrcinoma. The nurnerous color photographs in this edition are terrrific."


"The Second Edition points out that there are many new ideas and techniques in the area of Barrett's esophagus and esophageal adenocarcinoma. It is well written, thorough, and as up-to-date as any textbook can he on a rapidly evolving area. This is an excellent textbook for anyone with an interest in esophageal disease or gastrointestinal cancer. It would be an essential textbook for any medical library."

J. Patrick Waring. M.D.
A.tlanta, GA

George w. Meyer. MO., Book Editor, is on the Editorial Board 01 practical Gastroenterology
The leading reference text entirely devoted to this increasingly significant condition


Completely revised, updated and extended to include the latest research findings and their effects on clinical practice

Contains seven new chapters and offers more colour images

Written by the leading international experts in the field

Gives clear, didactic guidance on diagnosis, secondary prevention, and medical, surgical and multimodality treatment

Covers epidemiology, screening, pathology and surgery

Considers the precursor lesions leading to the development of Barrett's epithelium, the unique characteristics of Barrett's esophagus, and the consequenes of malignant degeneration