Bartolomé de las Casas and the Conquest of the Americas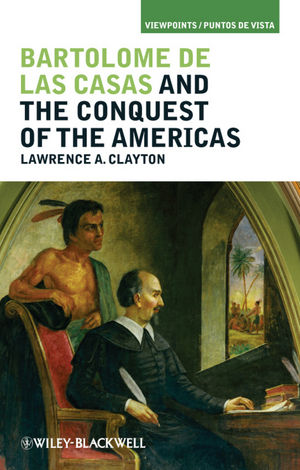 Bartolomé de las Casas and the Conquest of the Americas
ISBN: 978-1-444-39273-9 November 2010 Wiley-Blackwell 208 Pages
Description
This is a short history of the age of exploration and the conquest of the Americas told through the experience of Bartolomé de las Casas, a Dominican friar who fervently defended the American Indians, and the single most important figure of the period after Columbus.
Explores the period known as the Encounter, which was characterized by intensive conflict between Europeans and the people of the Americas following Columbus's voyages
Argues that Las Casas, 'protector of Indians,' was primarily motivated by Scripture in his crusade for justice and equality for American Indians
Draws on the 14 volume Complete Works of Las Casas as a window into his mind and actions
Encourages students to understand history through the viewpoint of individuals living it
Table of contents
List of Illustrations.
Series Editor's Preface.
Acknowledgments.
Timeline.
Introduction.
1 The Era of Columbus and the "Discoverers".
Modern interpretations.
Conquest of La Española.
2 Justice for All.
Discovering his calling.
Father Montesinos' sermon.
Las Casas goes to Cuba.
To Spain.
Meeting Ferdinand.
3 Social Experiments: The Hieronymite Mission and the Universal Protector of All the Indians.
4 The Era of the Conquests of Mexico and Peru, 1520s–1540s.
Seville, autumn, 1520.
The conquest of Mexico.
5 The New Laws of 1542 and Bishop of Chiapa.
Laying the groundwork.
Bishop of Chiapa.
6 "All Mankind is One": On the Nature of Humans, Servitude, and Slavery.
Bartolomé de las Casas and the African slave trade.
Conclusion.
Notes.
Bibliographic Essay.
Index.
Reviews
"Beside my students, I would recommend this book to anyone with a desire to understand better what is one of the most compelling periods in history."  (The Journal of Latin American Studies, 1 April 2013)
"Clayton (Univ. of Alabama) has written an excellent, concise survey of the life and work of Bartolome de las Casas, the Dominican friar who advocated fiercely on behalf of indigenous Americans during the 16th-century Spanish conquest of the America. . .Recommended. Lower-division undergraduates and above." (Choice, 1 October 2011)